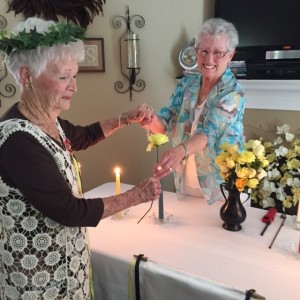 Betty Cruise was awarded the Golden Circle at the first meeting of the year of Chapter Laureate Alpha Lambda of Beta Sigma Phi. The sisters met in the home of Mary Mills with the Ritual conducted by Bonnie Hookman. The Golden Circle was established to honor members of Beta Sigma Phi who have been active in the organization for 50 years. The honor is meant to express the appreciation of her sisters and of the International organization for these distinguished members.
Betty joined a Beta Sigma Phi chapter in Warren, Michigan in October 1965. Congratulations Betty! We are deeply honored to be your sister in Laureate Alpha Lambda.
Betty expressed appreciation for all the friendships she has found through beta Sigma Phi.