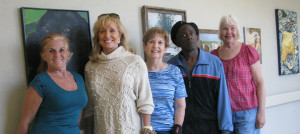 EXHIBITORS: Depicting creatures large and small, a new art display entitled "Critters" has been hung at Ozark Health Medical Center. Helping to hang the exhibit are regional artists (from left) Mary Shelton, Cabot;; Charlotte Rierson, Fairfield Bay; Judy Shumann, Diamond Bluff; Van Swink, Fairfield Bay; and Exhibit Coordinator Joyce Hartmann, Choctaw.
"Critters," a new colorful free exhibit by members of the North Central Arkansas Artist League, has just been hung at the Ozark Health Medical Center on S. Highway 65 in Clinton.
Seventeen regional artists have painted and drawn a wonderful animal world featuring graceful gazelles, lovable dogs, classic cats, horses, cows, sheep, beautiful birds, frogs, exotic elephants, penguins, monkeys, foxes, wolves and more. To illustrate this creature feature, artists used oils, acrylics, pastels, watercolors, and ink…and lots of color and creativity.
Exhibiting artists live within a 50-mile radius and include Joan Bland, Jan Cobb, Raylene Finkbeiner, Diana Foote, Carolyn Goettsch, Joyce Hartmann, D. G. Hendrickson, Connie Hood, Ellen Kelly, Robbie Miller, Rosalie Musial, Charlotte B. Rierson, Doris Sexson, Mary Shelton, Alison Shreck, Judy Shumann, and Van L. Swink, Jr.
The public is invited to bring their families to enjoy this exhibit during regular business hours from 8:00 a.m. until 9:30 p.m. each day. Art is available for purchase and to take home immediately; prices for this exhibit range from $15 to $450. A portion of each sale is donated to the Hospital Auxiliary to help benefit health projects. One has been sold already, but the buyer agreed to leave the painting up a little longer so that people can view it. The NCAAL meets each Monday from 9:30 a.m. until 1 p.m. to paint or draw together at Bayside Art Studio and Gallery, Highway 330 and Greenwood, Fairfield Bay. They exhibit their art in Clinton, Greers Ferry and Fairfield Bay, and sponsor several art workshops every year. For information about the League contact President and OHMC/NCAAL Exhibit Coordinator Joyce Hartmann, 745-6615.
"People of all ages will enjoy this exhibit," she said. "As we hung the exhibit, we received many compliments on it from passersby. The best compliment I saw, though, was the joy in a toddler's eyes, as he sat in his grandmother's lap while she traveled down the hall in her wheelchair. He was too young to talk, but he was so excited, he pointed and bounced and squealed with delight as they passed each new animal. This would be a great exhibit to broaden children's knowledge and interest in art and animals."
The public is invited to view the 35 new paintings until January 13, 2014. The art is located in the upper level hallways to the cafeteria, just inside the nursing home entrance.