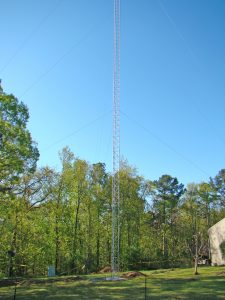 The Planning and Zoning Commission of Fairfield Bay was unable to come to a vote after the Public Hearing on April 4, 2016 whether to allow construction to continue on the communication tower at the Lakewood Condos. It asked the City Council to make the decision during the next regularly scheduled City Council meeting which was held Monday, April 11, 2016.
During the Council meeting, numerous condo owners were present as well as representatives of SkyFiNet ( who is building the tower) to hear the discussion. Aldermans Robert Otis, Larry Castro, John Foster, Sharon Luxon and Linda Duncan had numerous concerns about the continued construction of the tower. The concerns primarily dealt with the safety, maintenance and aesthetic properties of the tower construction. Alderman Robert Otis admonished the Condo Association as well as SkyFiNet for not coming to the City to apply for a permit before construction began.
Kenneth Goodwin, with SkyFiNet, spoke to the council regarding the concerns. He assured everyone that with 30 years experience of the construction process, everything would be taken into consideration to comply with all the needs of the City Council.
Alderman John Foster made a motion to table the discussion until the next City Council meeting on Monday, May 9, 2016. He requested that documentation and drawings of plans be presented to the council no later than May 2, 2016, for review. Also requested are signed documents from condo owners and local property owners that are within 1.5 times the fall radius of the tower, stating that the residents are comfortable with the knowledge of the potential danger if the tower were to fall.