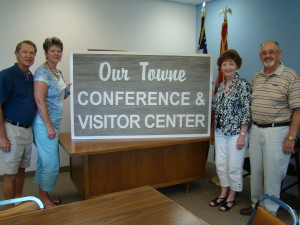 Thanks to all who came to help with the mulching at the convention center. We had lots of pitch forks, wheelbarrows, rakes, shovels, brooms and friendly faces. The Master Gardeners were there working hard and giving those of us who came to help encouragement and direction. The project took about three hours and the result was a fresh clean look that will become more and more beautiful as the overall plan continues. Please take the time to drive by and see what is taking place.
Due to the painting and electrical work currently being done inside the center, we have had to cancel our tours. As soon as we can open the center to group tours we will let everyone know. Lots of activity is taking place and the center is looking beautiful. Soon, we will be installing the chairs in the performing arts center and placing the art in the art gallery. We are working hard to have everything in place for the grand opening October 12, 2013.
Another positive development is that the Conference Center is beginning to receive calls for resort lodging. This is an opportunity for owners of privately-owned condos to become involved with rentals. We are thrilled that Willena and Fred Herman of Goodwin & Herman Associates Real Estate have partnered with us to manage condo rentals. Our goal is to provide the very best in lodging to all of our guests, whether it is with golf packages,conferences, or visitors to the resort. Condo owners are encouraged to contact Willena or Fred to discuss the property management details. All condos must meet very high standards of quality in updates, maintenance and furnishings. Assuring our guests of upscale lodging options will excite them about coming to enjoy everything Fairfield Bay has to offer, and then to return again and again! So, if you are interested in providing your nice condo as a unit to rent, please contact Goodwin & Herman Real Estate at 501-884-4885 for more details.
Thanks to everyone in the community who has helped with your generous gifts and all the volunteer help we are receiving. This is a wonderful community effort and all of the community support is showing everyone that The Bay Is Back!