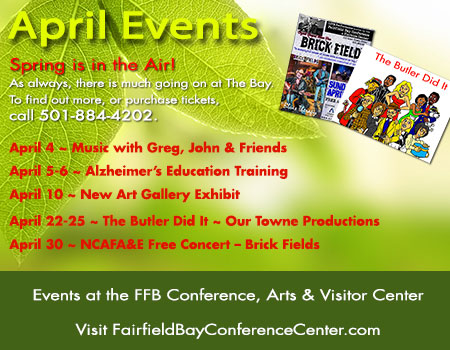 What's Happening at the FFB Conference Center & The North Central Arkansas Art Gallery
Open Monday to Friday 9 a.m. – 4 p.m. daily
WELCOME BREAKFASTS
Every Monday thru October.
ALZHEIMER'S EDUCATION TRAINING
Sponsored by the FFB EMS
Thursday, April 6th
Training: 9am- 1pm
The training is conducted by a group of doctor's from UAMS. This training is open to medical personnel, caregivers and anyone interested in learning more about Alzheimer's.
MUSIC w/ Greg, John & Friends
FREE Music in the Conference Center Lobby
Tuesday, April 11th-
6 to 8 p.m. (Encore Lounge opens at 5:30pm)
'THE BUTLER DID IT'
Saturday, April 22nd through Tuesday, April 25th
Saturday, Monday & Tuesday: April 22, 24 & 25 @ 7pm
Sunday matinee: April 23 @ 2pm
Our Towne Productions presents the hilarious comedy play that showcases 13 local community actors. Not gonna tell you who did it. You have to come see for yourself.
Only $18
Save the Date – Our Towne Production schedule:
Early November – Holiday Play
NEW ART GALLERY EXHIBIT Opening
Tuesday, April 18th
NCAFA&E
Free Concert – Brick Fields
Sunday, April 30th
4 to 6 p.m.
Internationally-acclaimed Ozark Gospel Blues Duo. Mark your calendar and don't miss these incredible sounds.
Watch for our summer events!
We are planning some fun and entertaining events for our summer season. We want to make the summer season enjoyable for our visiting guests as well as our year round residents. Our goal is to have entertainment, food, exhibits, concerts, and both inside and outside activities that will make the summer special for everyone.
For Overnight Lodging and all information about activities at the center call 501-884-4202. For more information about the Conference and Visitor Center visit www.FairfieldBayConferenceCenter.com, or call 501-884-4202.