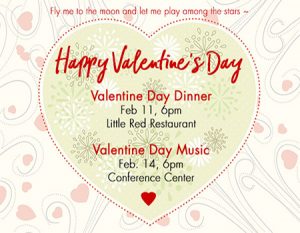 What's Happening at the Conference Center
Please Note:
New Winter Hours through March 6
Open Tuesday – Friday 9:00 am to 4:00 pm
Valentines Day
Tuesday, February 14
Live Music at the Conference Center with Greg, John and Friends
Join us for a fun evening of music from folks from Fairfield Bay and the surrounding area. Everyone is welcome to join in and lend their voices to the music. This is an evening of relaxing fun and special entertainment. We will have a cash bar, snacks and soft drinks as well. Join us at the conference center for this special event. Our plan is to make this offering a monthly night out for all to enjoy.
SAVE THE DATE – March
NCAFA&E
Bob Milne, Ragtime Pianist
Thursday, March 9
4 to 6 p.m.
Widely considered the world's greatest living ragtime pianist. Mark your calendar and set this time aside! More later.
SOCK HOP
Saturday, March 25
6 to 9 p.m.
Watch this spot for more information about a 50's Sock Hop. A chance to go to a time that we all fondly remember or would like to experience once again. The music will be all about dancing so get out those white bucks and saddle shoes and get ready to boogie. The band will be "Left of Center". Watch for more information about the band and its members coming in February's column.
North Central Arkansas Art Gallery
Open Monday to Friday 9 a.m. – 4 p.m. daily
Watch for our summer events!
We are planning some fun and entertaining events for our summer season. We want to make the summer season enjoyable for our visiting guests as well as our year round residents. Our goal is to have entertainment, food, exhibits, concerts, and both inside and outside activities that will make the summer special for everyone.
For Overnight Lodging and all information about activities at the center call 501-884-4202. For more information about the Conference and Visitor Center visit www.FairfieldBayConferenceCenter.com, or call 501-884-4202.