Coming to the Fairfield Bay Performing Arts Theater
Appearing this Friday, October 23 at 7 p.m. Mario Rosales, direct from Branson.
Tickets are $20, on sales now and at the door. Mario sings the biggest hits, from Sinatra to Classic Country, Neil Diamond to Elvis Presley and much more.
Please support this event so we may continue to bring great entertainment to Fairfield Bay.
Mario Rosales Bio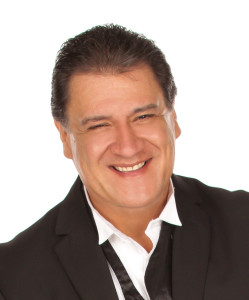 Mario Rosales was born and raised in Southern California, one of eleven children in a very musical family. He began playing piano and violin at the age of five and has learned to play several musical instruments over his lifetime.
Mario spent most of his adult life as an actor, voice-over artist and stand-up comedian in Hollywood, California. Later, he worked in the radio industry as a host of the radio program "Mario & Company." Nine years ago Mario decided to combine his previously untapped singing abilities with his comedic impression talents and produce a show he dubbed "Club Mario," a show featuring the songs of the "Rat Pack" era and a spot-on tribute impression of the comedy of the late-great comedian, Rodney Dangerfield. It wasn't long before he began performing shows that reflected his love for other types of music, including Classic Country, Gospel and Pop music. Mario ended his radio program and moved to Branson, Missouri in May of 2011 and immediately began a busy schedule of performances all over town.
In June of 2015, Mario was nominated as "Track Show of the Year" in Branson, MO.
He has been quoted as saying that he has finally found his true calling in life and is so grateful to God for the gift of being able to entertain others.
Aside from his live singing performances, Mario can still be heard on radio commercials and on television on such networks as The History Channel, A&E, Discovery Channel and Cartoon Network.