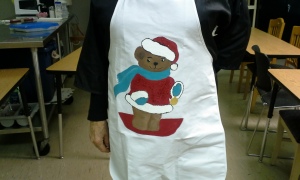 On Tuesday November 8th, from 1-4pm, the Community Education Center will be offering a new class, "Decorating a Holiday Apron ", using acrylic paint and glitter. This class is being taught by Doris Sexson and will be limited to the first ten (10) people who sign-up. Class: "Decorating a Holiday Apron ",
Date: Tuesday, November 18th from 1:00 to 4:00.
Cost: $35 with all supplies/apron being furnished.
Sign up today, if you're interested in this class, as space is limited to ten (10).
Please call the FFB Community Education Center at 884-4440. See you in Class!