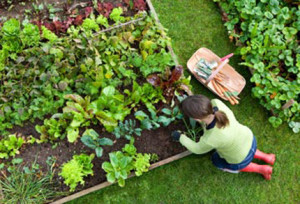 The FFB Community Education Center is working on a joint project that would benefit all our citizens – seniors and local youth alike. A new education program combining gardening and nutrition is in the application process for grant funding. We are looking for participants who have the "how-to" information to share, those who love to work in the greenhouse or garden and mentor our youth to do the same! Once we learn to sow and plant, nurture and grow, we will harvest and cook up some flavorful and nutritious meals for all, plus send some crops home with all the participants. We can create waves in our community, experience the joys of nature and the welcome satisfaction of helping others while reaping nutritional and healthful rewards.
Experience firsthand the joys of gardening once more at your own level, based on your personal mobility/limitations. Lend a helping hand to the next generation of gardeners, who will appreciate the chance to learn these valuable life skills to enjoy for the rest of their lives, too.
If you are suffering from cabin fever, and looking for something new to get excited about again, call the education center today at 884-4440. Get on the road to an exciting spring and summer here in the Bay. Kids of all ages are welcome to participate. If you prefer, email us at: [email protected] .