Community Education Center Announces New Class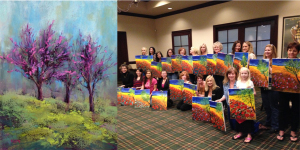 The Fairfield Bay Community Education Center is to start offering a one-day class in Acrylic Painting, called "Painting With Panache". The class is to be held every month on the second Thursday. The first class will start on June 11 from 2 – 4 p.m. This class will be taught by Mountain View Artist, Jim Tindall. Jim's passion for painting and a love for the Arkansas landscape makes him comfortable painting in most any media in a wide range of subject matter. Jim is struck by the abundance of the natural beauty one can find once they are willing to open their minds eye and look. He feels there is no greater part of the world to find it than right here in the "natural" state. ".
Jim has studied art as an art major in high school, the University of Wisconsin, the University of Arkansas at Little Rock, the University of Central Arkansas, and numerous studies with other artists. He has won numerous art awards and honors. His art is part of public and private collections around the world.
The cost of this class is $45 and the cost includes the supplies. Because this is a recurring class, the annual Administrative Fee of $35 will also be required. If interested, please call the Community Education Center at (501) 884-4440 to register.