NEW Class, with the FFB Community Education Center
Fairfield Bay Community Education Center is offering for the first time a "Microsoft Word" class. This class is being taught by Lee Phillips. The five week class will be meeting on Thursday from 9:00 a.m. until 11:00, beginning May 8th. This is a hands-on workshop to learn how to effectively maneuver through the Microsoft Word program. The student will learn how to create, save and store document files and folders. The instructor will teach some advanced functions depending on the skill level of the student.
3rd Annual Fundraiser -" Cheeseburger in Paradise" – May 17, 2014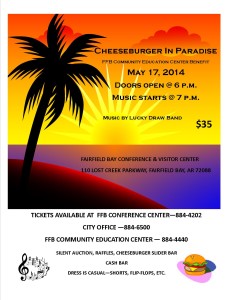 This year's spectacular beach style Party, Raffle and Silent Auction will be held at the FFB Conference and Visitor Center on Saturday evening, May 17th. Dress is casual: wear your shorts/ capris and flip flops or sandals. Or better yet—plan to enter our contest this year for the "Craziest Beach Attire". You will not know who is judging but they will be looking at you. A $50 gift card from the Clinton Wal-Mart will be awarded to the male or female deemed to be dressed in the craziest and most fun beach attire.
Our Slider Bar catered by the "Little Red Restaurant" will open at 6 p.m. and will serve you until 7:00 p.m. The dance band "Lucky Draw" will begin to play at 7:00 p.m. and continue throughout the remainder of the evening.
Our Raffle will be held during the Band's breaks and the Silent Auction items and bidding sheets will be on display throughout the evening to allow ample time for everyone to bid on the valuable gifts and prizes.
This event was very well attended last year and tickets completely sold out. Call your friends and get your tickets early to insure you won't miss out on all the fun at this event. Look for more details in the Fairfield Bay News or on our Facebook page: Fairfield Bay Community Education Center. Tickets can be purchased at the Education Center in the Village Mall, in the Conference Center or contact your favorite City Council member who will also have tickets for sale.
If you will be out of town for the event, it is always welcome for you to purchase a ticket as a donation. Thank you and come join the fun. Trudy Gautreau, Director, Community Education Center
About FFB Community Education Center
FFB Community Education Center, a non-profit amenity, has been busy hosting classes for residents and visitors alike, adding enjoyment and imparting new skills or honing old ones in the Village Mall for the past several years and has finished off 2013 with a proud record of being fully self- supporting through registration fees, course fees, donations from benefactors and benefit events. Call the Education Center today at 884-4440 or email us at [email protected] . To learn more, check out their facebook page: https://www.facebook.com/pages/Community-Education-Center-at-Fairfield-Bay/290835534294676
Get on the road to an exciting spring and summer here in the Bay. Kids of all ages are welcome to participate.