The FFB Community Education Center has a New Center Director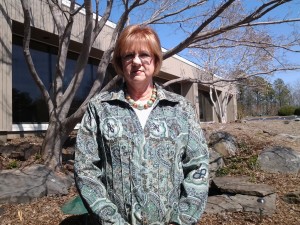 The City of Fairfield Bay is pleased to announce the appointment of Ms. Trudy Gautreau as the new Fairfield Bay Community Education Center Director.  Many of you will recognize Ms. Gautreau as a frequent volunteer at the Conference and Visitor Center as well as the Chamber of Commerce.  Ms. Gautreau brings excellent organizational, interpersonal skills and a strong work ethic to the position.  She will formally begin the transition in April.
The City wants to express its deepest and warmest thanks to Mrs. Sherry Guess who has put her heart and soul into making the Community Education Center the success it is today.  Her skills, effort, and desire have been invaluable to the Community Education Center.  She will continue as a volunteer at the Center and assist Trudy to ensure a smooth transition.
Remember, there are lots of fun courses for you to jump in and get engaged. Learn something new today.  To learn more, check out their facebook page: https://www.facebook.com/pages/Community-Education-Center-at-Fairfield-Bay/290835534294676
If you are suffering from cabin fever, and looking for something new to get excited about again, call the education center today at 884-4440. Get on the road to an exciting spring and summer here in the Bay. Kids of all ages are welcome to participate. If you prefer, email us at: [email protected] .
Below is a list of the Spring courses being offered.
ANDROID PHONE $20
Tuesday or Wednesday (May 20 / 21) 5:30 p.m. to 7 p.m. Erin Baugh
Understand and maximize the use of your Smart Phone. Learn the tricks to make operating easier. A total of 1 session. Min 5/Max10.
iPAD and iPHONE $20
Tuesday and Wednesday (April 15 &16) 4 p.m.—6:30 pm Ron Phillips
Understand how to maximize the use of your iPad or iPhone. A total of 2 sessions. Min 6/ Max 12
FACEBOOK FOR BEGINNERS $25
Tuesday & Wednesday ( April TBD) 4 p.m. —6 p.m. Deborah Bond
Learn how to connect with your family & friends on facebook while maintaining your complete privacy. Use our computers to try it in a controlled situation. You just might LOVE it! Take advantage of this great opportunity. This class will fill up quickly. Don't wait! Register today! NOTE: You must set up a facebook account and bring your sign on and password with you! Any questions, please call. A total of 2 sessions. Min 5/ Max 10.
STAIN GLASS ART $25
Mondays (May 5,12,19, June 2) 4 p.m. – 6 p.m. Pete & Elisabeth Ave-Lallemont
All inclusive class for beginner or intermediate in Stain Glass. You will pick from a number of patterns and select your colored glass, learn to cut, grind, foil and solder, creating your own suncatcher. Use our tools, come as you are and be prepared to have fun and learn a new craft. A total of 3-4 sessions depending on time needed to complete project. Min 3/ Max 6.
HERBS! SPA EXPERIENCE USING HERBS $35
Thursdays (TBD) 5 p.m. – 7 p.m. Erica Clements
Another great class for your club or group! You will make some great products to take home. This is an all-inclusive class where you will learn how to make your own soaps, oils, herbal remedies, skin care products, even delicious cooking recipes, all with natural herbs. Take them home to share with family. Great learning experience and value! Min 3/ Max 10.
RELAXATION TECHNIQUES $20
Thursdays –(March 13 – May 29 ) 5:15 p.m.- 6:30 p.m. Dan Eidson
Price is per session. One day stress buster class! Learn how to easily reduce your own stress and calm yourself in any situation. Working all day and having other responsibilities can get overwhelming at times. Find out how to get back in control of your own life. Min.3/ Max 10.
UKRANIAN EGG DECORATING $25
Wednesdays (April, May Wednesdays) 1 p.m – 3:30 p.m. Chuck Dawson
You can learn this ancient art form under the patient instructor who has held the most popular and well loved one day class all summer long. This is a one day class. (If you are interested, you can sign up for a session of 5 weeks to receive more detailed instructions for five (5) weekly sessions and enjoy this hobby for years to come.) Min 5/ Max 12
ART—ONE-DAY OIL PAINTING $35
Tuesdays 1 – 4 p.m. (April & May) Doris Sexson
Any Skill Level! This is the most popular one day class we offer! Make it a family affair. All inclusive class in one (1) session, and all supplies furnished. You' will leave with a finished 8×10 canvas painting suitable for framing at the end of class!. Min 5/ Max 12.
****** OTHER COURSES THAT MAY BE HELD THIS SESSION IF INTEREST IS THERE!!!! *******
PHOTOSHOP –
Saturday (April 19 & 26) – 9 a.m. – 1 p.m. Lee Phillips $35
Two sessions for a total of 8 hours of instruction. Learn how to turn your good photography work into spectacular photography using the preferred photo editing program. You will need to purchase the' Photoshop Elements' or higher program version in order to learn how to use the most popular features. Min 6/ Max 12.
WINDOWS 8
April/May (TBD) Deb Bond $25
Got a new computer with Windows 8? Having some trouble operating your computer now? You are not alone! Join with countless others who bought the latest equipment only to find that Windows has changed in order to function with handheld apps, much to the dismay of pc users everywhere! Min 4/ Max 10.
FLOOR CLOTH PROJECT $35
Thursdays 1 p.m. – 4 p.m. (TBD) Gay Coe
No artistic talent needed! Artistic design using stamps and paint. In three weeks, you will create your own unique piece using Gay's techniques. Supply cost is additional $10 payable to instructor at start of class. Stop by the office and see sample at registration. Min 7/ Max 10
ARKANSAS/ AREA HISTORY Marilyn Robertson $10
(TBD) Our Log Cabin Museum Director has a wealth of information about the history of our area that she is happy to share with everyone. Learn more about the Indian tribes that inhabited this area, plus all the varieties of wildlife including birds and animals. Learn about the first settlers and the methods employed for survival in the Ozarks. Min 3/ Max 12.
AQUAPONICS Pete & Elisabeth Ave-Lallemont $25
(TBD) Learn about gardening with aquatic life and plants. There is hope for raising some crops despite the rocky soil in our mountainous area. Learn this aluable form of gardening with symbiosis between animals and plants. Min 5/ Max 12.
"BASIC INVESTING RULES OF THE ROAD" & "FOCUS" Kevin Feeler FREE
(TBD)Learn 10 principles for sound investments, and also how to identify and avoid the most common investment mistakes. "Focus" covers bond characteristics, features, as well as key strategies to get the most of one's fixed-income investments. Min 3/ Max 12.
BEGINNER & INTERMEDIATE PIANO CLASSES – Mondays, 9 a.m.—2 p.m. Susan Calaway $40
You're never too old to learn how to play the piano in these private lessons on the piano or organ. Appointment needed. Tuition is for 5 weekly sessions of 30-minutes each!
BEGINNER & "RE-INTRO" BASIC GUITAR CLASSES – Fridays (by appointment) Dan Eidson. $20
Introductory class. Learn the basic strumming and chording techniques or re-call your old skills from days gone by. You can book a series of classes with Dan if desired. Pricing is based on your needs.
STUDY FOR GED, REMEDIAL COLLEGE ENTRANCE OR RENEW CERTIFICATIONS – Thursdays 1:30 – 7:30 FREE
Study with individualized help from a Van Buren County teacher. Work at your own pace and with your own schedule! Call to let us know you are planning to come, please!
IMPORTANT INFORMATION : THIS SCHEDULE IS SUBJECT TO CHANGE WITHOUT NOTICE.
Additional Information is available, call 501-884-4440. Hours: Mon-Thurs. 9 a.m.-4 p.m.
EMAIL: [email protected] WEBSITE: www.fairfieldbaycommunityeducationcenter.com
Fairfield Bay Community Education Center, 120 Village Lane, Fairfield Bay, AR 72088 (in the Village Mall)
Find us on Facebook at: Community Education Center at Fairfield Bay
We are easy to find and hard to forget.