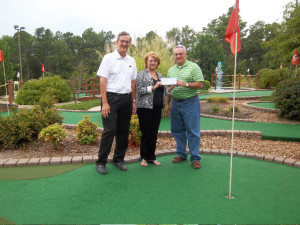 BHP Billiton Petroleum recently presented a check for $250,000 to the Fairfield Bay Community Club.
The check represents the fulfillment of a $1.5 million commitment made in 2009 by Chesapeake Energy of Oklahoma City, after Chesapeake signed a lease with Wyndham Resorts for the minerals it owned in Fairfield Bay.
In 2011, Chesapeake sold its Fayetteville Shale assets in Arkansas, including those in Fairfield Bay, to BHP Petroleum. "
Although there are no current plans for activity within the city, we are glad to meet our financial obligations to the Club and residents of the Bay," said Danny Games, External Affairs Manager for BHP.
BHP Billiton Petroleum is headquartered in Houston, Texas with a field location in Searcy. BHP's Fayetteville Shale assets include approximately 487,000 acres of leasehold and producing natural gas properties in north central Arkansas.
Pictured are Community Club GM/Mayor Paul Wellenberger, Community Club Board Vice President Linda Pratt, and BHP External Affairs Rep, Mark Raines, who is presenting the check to Ms. Pratt. The Club has used cash instead of borrowing money for necessary capital expenditures such as the new carpeting at the miniature golf course. With no new debt, the Club has also improved its balance sheet each year since 2009.