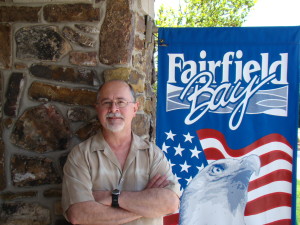 The Community Club is excited to announce the appointment of Jon Bradley, the new The Club and TOTR Manager.
Jon was born and raised in Memphis. He recently celebrated his 31st wedding anniversary with his wife Linda. Jon and Linda have one son and two grandchildren.
Jon brings a life time of experience in the food and beverage industry and hotel management. Jon owned his own business for 10 years in food and entertainment.
The later part of 07 and through the spring of 08 Jon was a contractor in Iraq and set up internet cafe's for the troops.
In 09 through most of 2011 he was a Club Manager at Guantanamo Bay for moral, welfare and recreation.
Jon is currently leasing a condo in Lakewood and plans on looking around the area for a potential home.
"I look forward to meeting and serving the members and guests at the club. I welcome input and suggestions to make  the Top of the Rock an exciting place to come for an evening of fun. Fun and vibrancy is the key and I invite everyone to join us Thursday, June 27 for the Grand Opening of the "Top of the Rock" from 4-8 p.m.," commented Jon.