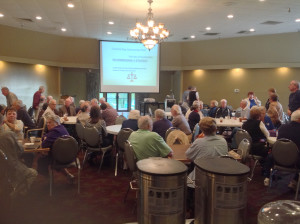 The Community Club held a town meeting to discuss potential plans to consolidate and cut costs. GM, Paul Wellenberger and Board President, Dwayne Miller discussed the many positives that have happened the past year. The marketing efforts are starting to pay off; Real estate sales have improved by 48% over last year, the opening of the Conference Center, solving the overnight lodging issue and creating the incubator team.
Where are we headed in the future? 2014- Establish new medical facilities in Fairfield Bay. 2015- New businesses in the Mall, attract a private investor hotel. 2016-2020-Infrastructure improvements, grow our population, bring incubator ideas to fruition, move as many amenities to private operation as practical. The Community Club and City Management are looking for methods to optimize their organizational efficiencies.
There are six choices that are being evaluated: Continue in the same manner, with a 300K loss annually from the Country Club, pursue an outside source to lease the Country Club, downsize the Country Club, keep open and cut costs in half, move the Pro Shop to the Fireside Room, move the Community Club, Newspaper and City Offices to the Fairfield Room, assuming an agreement is reached for a medical facility or bulldoze the Country Club and build a new 19th Hole next to the Pro Shop.
"Big change is needed in order to improve Club operations, we can't keep doing the same thing expecting different results. There is a positive upward swing in the direction of Fairfield Bay and the Conference Center will play a big part in our success," said Paul.