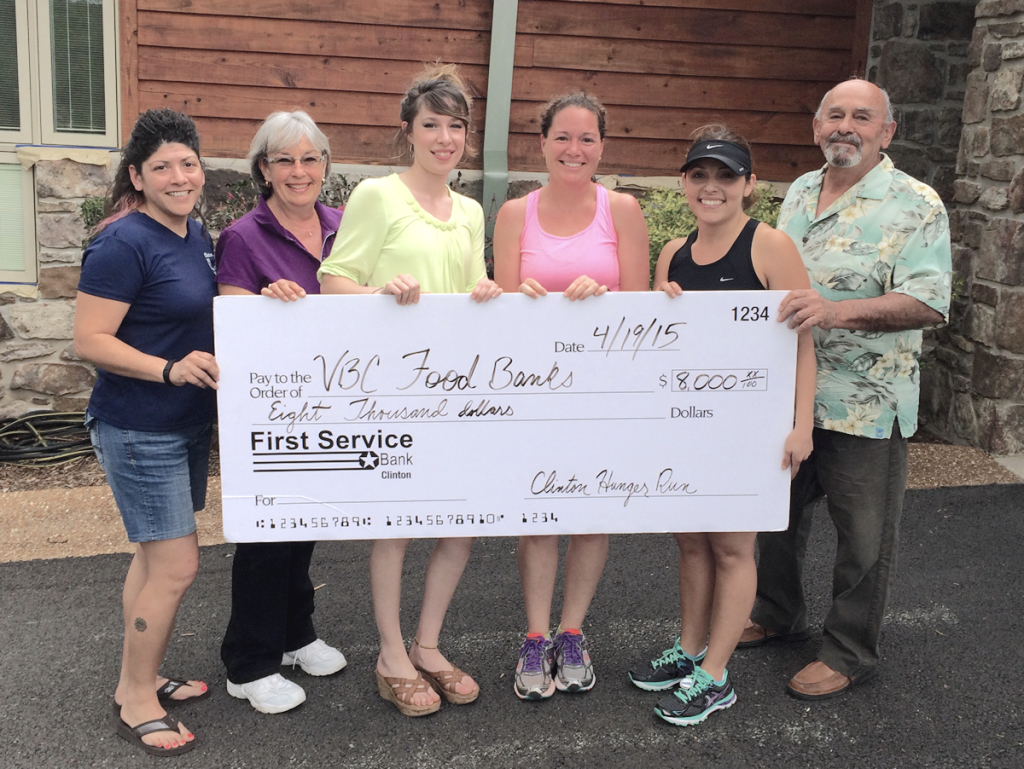 Organizers of the Clinton Hunger Run 5K are proud to announce the results of another successful event in support of the Van Buren County food banks. The third annual downtown run/walk has far surpassed the previous year's totals with a donation of $8,000 to be divided between Clinton's "Foods for Life" and the Choctaw Food Bank. This contribution is made in part with the help of a matching funds grant from Modern Woodmen of America.
The event took place on March 28 with a registration total of 250 in all age groups, from seasoned athletes to first-time runners. Participants and visitors kept the cold at bay with hot coffee courtesy of Rock N' Java, snacks from the goodie tables, and a lively Zumba warmup, all broadcasted via KGFL's live remote. Even family pets joined in the fun as people flocked to the downtown area to enjoy music, mingling and cheering on the runners & walkers. Race director, Meagin Warren, announced the names of the top finishers in each of the ten age groups as they were awarded medals immediately after the race.
The success of the event itself, and the huge accomplishment of the fundraising team, is an outstanding credit to the participants, volunteers, and nearly 60 local sponsors. Their generosity will make a big impact on the non-stop efforts of those who are fighting hunger in our area throughout the year.
The next Hunger Run is scheduled for Saturday, March 26, 2016. Online registration will open in January. Visit www.clintonhungerrun.com for race results, sponsors, photos from Gray C. Photography, and information about sponsor & volunteer opportunities.
Special Thanks
Food for Life
Choctaw Food Bank
Mayor Richard McCormac
Clinton Police Department
Southern Paramedic
Jennifer Fleming & Clinton FBLA
Clinton C.A.R.E.
Immanuel Baptist Church
Staff of Faye's Diamond Mine
Eoff Feed Store
Mac's Race Timing Service
Don Potter, Chase Race & Paws
Road ID
Hunger Warriors
Bonds Trucking & Septic
Enoch Computer Technologies
First Security Bank
First Service Bank
KGFL/KHPQ
Ozark Medical Clinic
Regions Bank
Rock N' Java
Splash Car Wash
The Pottery Shop
Warren Dental
Hunger Champions
Bates Mechanical
Cabins on the Cove
Cannaday Abstract
Clinton Drug
Clinton Physical Therapy & Fitness
Friends of the VBC Library
Huddle House
Jones Family Pharmacy
Pistole Pawn
Simmons Bank
Tester Law Firm
Western Sizzlin
Hunger Heros
AR Mountain Real Estate
Blagg Law Firm
Beverly Wynot, LMT
Clinton Consignment
Fairfield Bay News
Fairfield Bay Pharmacy
Faye's Diamond Mine
Hope Medical Clinic
Ozark Construction
Pack Lumber & Flooring
Sonic
Hunger Fighters
Attorney Chad Brown
Backyard Antiques
Bank of the Ozarks
Circuit Judge Mike Murphy
Clinton Gymnastics Academy
Clinton Independent Garage
Davis Cash Lumber
Dr. Jose Abiseid, Family Practice Center
Elite Automotive
ER Hair & Nail Salon
French Feed
Gray C. Photography
Joe Lee Chevrolet
Kimberly Beard, Origami Owl Jewelry
Kristal Conine, CPA
Kyle Hensley, DDS
Morgan Law Firm
Paul's Body Shop
Roten's Furniture
Scarberry Insurance
Shelter Insurance
Walmart
Zumba with Karla Jones