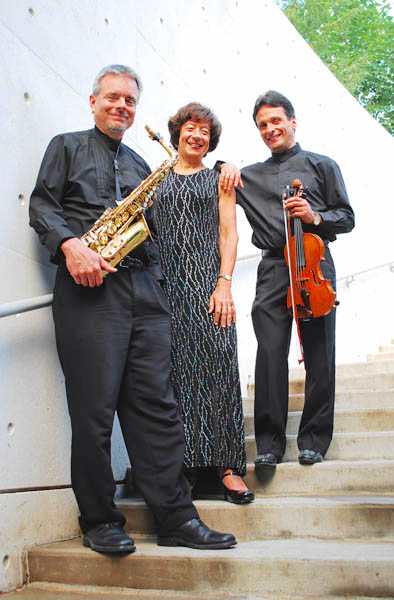 The North Central Foundation for the Arts and Education (NCAFAE) welcomes Cleveland Duo & James Umble to open their fall season. On September 13 the Fairfield Bay Conference Center will be abuzz with a most unusual combination of instrument sounds. This unique trio of musicians will present an afternoon featuring a performing style combining violin strings, piano keys and saxophone tones which will come together in a most interesting variety of music, ranging from traditional, to classical, to folk, and even jazz. The mission of these musicians is "to constantly create energizing and inspiring programs." Established in 1980, the illustrious Cleveland Duo (Stephen and Carolyn Warner) combines with nationally known saxophonist, James Umble, to form an exciting threesome who are virtual pioneers in the world of chamber music.
Stephen Warner, native of Philadelphia, began studying violin at the age of six and earned a Bachelor of Music degree in violin performance from the University of Georgia where he studied with such illustrious violinists as David Cerone and Jascha Brodsky. He joined The Cleveland Orchestra immediately after earning his degree.
Mr.Warner is a founding member of the Cleveland Duo with his wife, Carolyn Gadiel Warner.
Ms. Warner (pianist and violinist) is a native of Canada who began studying music at the age of three, receiving lessons from her mother. She made her debut at the age of five over the C.B.C. radio and continued an active child performer's career thereafter. She holds Bachelor's and Master's degrees in both violin and piano from the University of Toronto. Both the Warners are recipients of numerous awards nationally and internationally, and have performed and lectured across the world.
James Umble (saxophonist) is also a native of Pennsylvania and holds a Bachelor's degree in music education from Susquehanna University, a Master's in saxophone performance from Bowling Green State University and a Doctor of Musical Arts degree from the University of Michigan. He currently holds the position of Professor of Saxophone Performance at Youngstown State University's Dana School of Music and has traveled worldwide as award recipient, lecturer and teacher.
The community of Fairfield Bay is most fortunate to receive this exciting trio. Please join us at the FFB Conference Center on Sunday, September 13, 2 p.m. There is no charge for this concert. However, donations will be cheerfully accepted in the interest of continuing to bring top quality musicians and artists to the community and area schools.