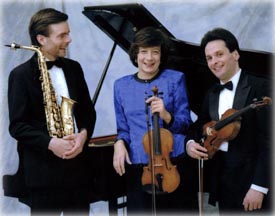 Mark your calendar for Sunday, September 15! The North Central Arkansas Arts Foundation for Arts & Education will present The Cleveland Duo and James Umble at 2 p.m. at the Presbyterian Kirk of the Hills at 250 Dave Creek Parkway, Fairfield Bay.
Clearly in love with music, The Cleveland Duo & James Umble, will make a return performance with an eclectic trio of violin, piano and classical saxophone. They have been heard throughout North America since the 1993-94 season in major chamber music venues, conference sites, universities and conservatories of music, schools, festival sites, temples and over the airwaves of National Public Radio and the C.B.C.
Their repertoire contains newly commissioned works, other original compositions and transcriptions of existing master works, for which they have gained exclusive performance rights by major publishing houses. They have recorded for Dana, Klavier and soon-to-be-released, Centaur labels.
James Umble, alto saxophone, earned a D.M.A. from the University of Michigan. He is a professor of Saxophone at Youngstown (Ohio) State University's Dana School of Music and has also taught at Brevard Music Center in North Carolina and at the Oberlin Conservatory. He has appeared numerous times with the Cleveland Orchestra in specialized repertoire featuring the saxophone. Dr. Umble is a founding member of The Cleveland Duo & James Umble.
Carolyn Gadiel Warner, piano, earned a Bachelor's degree in piano and a Master's in violin from the University of Toronto and won First Prize in Violin and Chamber Music from the Paris Conservatory of Music. She is a long-time member of the violin and keyboard sections of The Cleveland Orchestra, where she holds the Marc and Marjorie Swartzbaugh endowed keyboard chair. As a member of The Cleveland Duo and The Cleveland Duo & James Umble, she has performed throughout North America and internationally and has been profiled in Strad Magazine, Saxophone Journal and other professional publications.
Stephen Warner, violin, earned the B.Mus. from the Curtis Institute of Music and immediately thereafter joined the violin section of The Cleveland Orchestra. A founding member of The Cleveland Duo, with his wife, pianist, Carolyn Gladiel Warner, an ensemble which toured extensively since 1982, he formed The Cleveland Duo & James Umble during the 1993-94 season after the trio went through the Grammy Award nomination process in five categories. Mr. Warner is also an alum of The University of Georgia and The Cleveland Institute of Music.