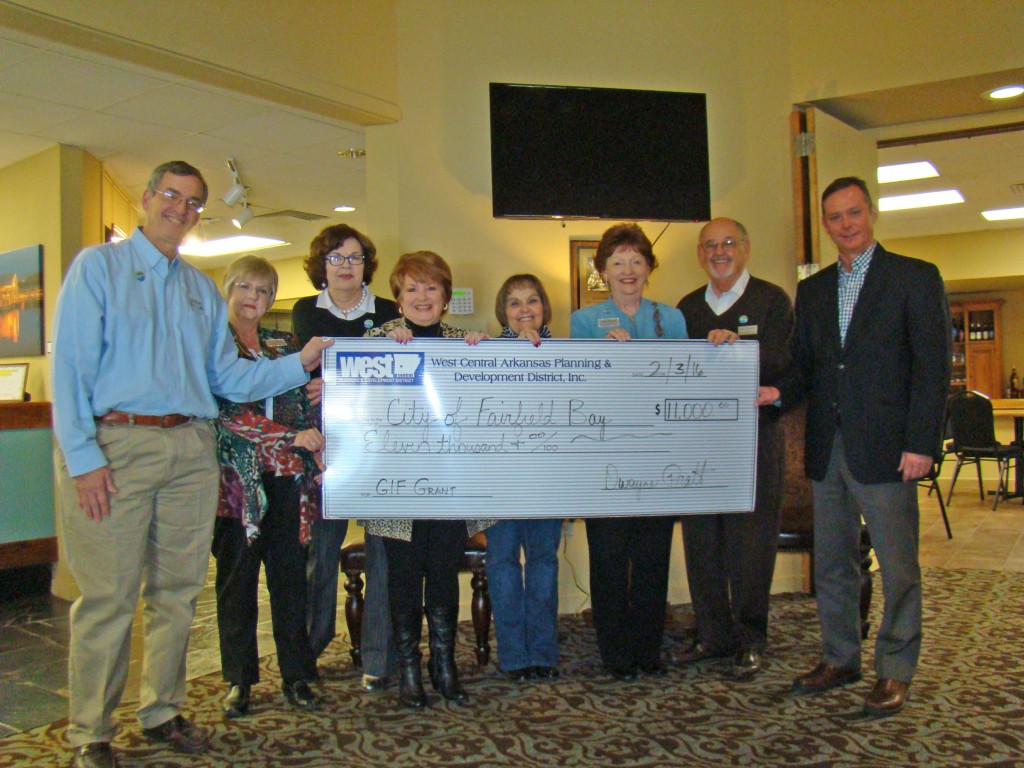 Pictured left to right are Mayor, Paul Wellenberger, Trudy Gautreau, Joyce Dobbs, Alderman, Sharon Luxon, Sharon Schaffer, Wilba and Bob Thompson and Dwayne Pratt, representing, State Representative, Trevor Drown of the West Central Arkansas Planning and Developemnt District. The Conference Center has received an 11K GIF Grant to install electronic doors at the front entrance.
This grant is one of several grants discussed during the city council meeting on Monday, February 8.
Other grants the city has been awarded include; Delta Regional Authority Grant to extend the sewer line out to highway 16, the COPS Grant, which funds 75% of an officer for 3 years, Arkansas Department of Parks and Tourism Fun Park Grant for Rambling Cove to add a pavilion, playground and basketball court. A Festival Advertising Grant, a US Tennis Association Grant to help resurface courts, an Animal Protection League grant and a Solid Waste Management Waste Grant for recycle containers to be placed throughout the Bay.
It appears the new Leash Ordinance is working, with 6 citations given since being passed.
It appears that illegal trash dumping is on the rise in the undeveloped areas of the Bay. Steps are being taken to monitor and issue fines to individuals identified.
The 2016 Urban Deer Hunt has been authorized and it appears that the past hunts have reduced the per sq. mile count from 150 in 2011 to 64 in 2015. Alderman, Robert Otis, stated that the deer he has seen around his home appear healthier now. The success of the deer hunt has been credited to Fairfield Bay resident, Mark Harbour for his professionalism in organizing and monitoring the hunts. Alderman, Larry Castro, noted that making changes to where the hunters can hunt has limited the problems areas of concern for the residents.
The next meeting of the city council will take place on Monday, March 14, 2016. The public is invited to attend.