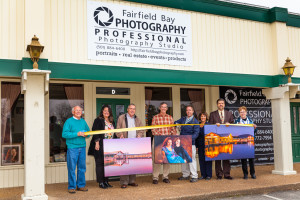 We have a full-service Photography Studio in North-Central Arkansas! FFB Photography provides quality service at attractive prices. Also provided is personal, hands-on service. As a resident of Fairfield Bay, you can be sure that you will receive the personal attention and service that you need.
•Studio Portraits
•Real Estate
•Location Portraits and Lifestyle Photography
•Personal Events
•Product Photography
•Community
Owner Jeff Beer, recently moved to Fairfield Bay. You may know his mother, Mary Alice Beer. She's lived here in the Bay for many years now. You may remember her as "the dog lady," "the bird lady" or "the trail guide."
For all your Photography needs, go see Jeff at his Studio location, in the same building as Eagle Bank.
Jeff Beer
120 Village Place, Suite D&E
Fairfield Bay, AR 72088
Phone: 501-884-6400 (Studio)
Mobile: 501-772-7994
www.fairfieldbayphotography.com