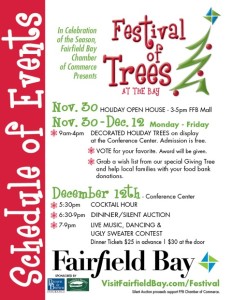 Fairfield Bay lights up the holiday season with a winter spectacular in their annual holiday celebration Festival of Trees event, Saturday, November 30 – December 12th, 2015. Fairfield Bay's Conference and Visitor Center is transformed into a wonderland of holiday elegancy and whimsy to suit any age, family or individual.
"Fairfield Bay community organizations, businesses and families have joined together to create this holiday festival," said Heather Dunn, Fairfield Bay Chamber of Commerce Director. "We've got all the twinkling lights, sounds and smells of this blessed season that you could need to get in the spirit and ready for some truly happy holidays."
Holiday Open House
The season's celebration begins with a community Holiday Open House where the town's merchants open their doors for some fantastic holiday shopping, refreshments and merriment! Join in the fun at the Fairfield Bay Mall from 3-5pm!
Trees, Trees and More Trees
Explore this special forest of trees and leave inspired and ready for the season. Each Christmas tree is decorated from its starry tip top to its blanketed base. No two are alike and range from whimsical to traditional, from kid to pet friendly! Vote for your favorite. And while you're there, look for one special tree – our Community Giving Tree! Grab a wish list from the tree and help local families in need with your food bank donation.
Trees will be on display in the Conference Center from November 30th through December 12th from 9am until 4pm each day. Families are encouraged to bring cameras and capture their special photo.
A Night for the Adults
Saturday, December 12 evening wraps up the festival with a silent auction, dinner and dancing, with cocktail hour starting at 5:30 and the festive Dinner, Dancing and Charity Silent auction from 6:30 until 9 pm in the Conference Center. Dress is cocktail or festive. There's even an Ugly Sweater Contest! Tickets are $25 per person in advance and $30 each at the door. Festival trees will be available for auction, as will gift baskets, artwork and more.
Tickets & More Information
Festival of Trees will be held at Fairfield Bay's Conference, Art and Visitor Center located at 110 Lost Creek Parkway in Fairfield Bay. To purchase tickets, find a complete list of events and times and more information, visit http://somedaystartstoday.tv/cms/festival/ or call 501-884-4202. Funds raised through this event will fund Chamber programs and events in Fairfield Bay.