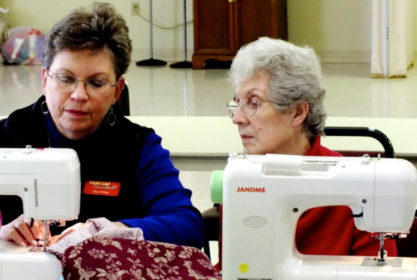 Mary Phillips, Owner/Manager of Care Caps, demonstrates the sewing procedure to Opal Tester, a Crabtree EHC Member in last April's Sew-in Workshop.
Van Buren Extension Homemaker Club's (EHC) County Council will sponsor and host a Care Cap Workshop at the Clinton United Methodist Church from 9 am until 2 pm on Wednesday, 25 March. Mary Philips of Fair Field Bay, owner and manager of the Care Cap Program, will bring sewing machines and all supplies; therefore, all that will be needed is willing and able bodies to cut, press, and sew caps for cancer patients of the county and the state. All regular Care Cap volunteers are invited to join the Clinton Care Cap Workshop on Wednesday, March 25 from 9 am until 2 pm.
All the county's EH Clubs will be present to work all day; those EH Clubs are: Alread, Chimes, Crabtree, Damascus, Davis Special, Formosa, and Highway 110. The EHC members welcome any person in the county to join in during the day's workshop. The County EH Clubs will also be introducing the new County Family and Consumer Sciences Agent, Ms. Torrie Caston, to the county that day.
The Care Caps project is just one of the many Community Service Projects participated in and enjoyed by the County's EH Club members. Some of the other upcoming scheduled activities are:
1. The EHC annual Bake and Plant Sale will be conducted on Friday, May 8, Mother's Day weekend at the Cash Saver Store parking lot. The new EHC County Cookbook will be on sale at the annual Bake Sale.
2. An Opportunity Quilt ticket drawing to provide a $1000 Scholarship to a county Nursing Student. Michelle Burgess, Shirley Public School's Nurse, was the 2014-14 scholarship recipient.
3. Formosa EH Club will host the Spring EH Council Meeting on Thursday, April 16. Janet Carson, State Extension Service's Horticulture Specialist, will be the guest speaker for the meeting in Formosa. Anyone who is interested gardening and attracting bees and butterflies is welcome to attend.
4. The annual EHC Quilt and Craft Show will be conducted in November at the VBC Fairgrounds, where there will be demonstrations of craft skills and quilting.
5. Exercise classes, Extension Get Fit, are being conducted by EHC Members at Chimes, Crabtree, and Shirley, anyone who wants to get and stay fit is invited to contact the County Extension Office to join a class or start a new exercise group. Nutrition and exercise classes are being conducted at the Shirley and in Fair Field Bay.
Anyone who is interested in joining one of the county's EH Clubs or in starting a new club should contact Torrie Caston, CEA/FCS-4-H at the County Extension Office, 501-745-7117, because all the county clubs, events, and activities are open to any person regardless of race, color, national origin, religion, gender, age, disability, marital, veteran status, or any other legally protected status.