Looking to entertain some friends this summer? Try this simple, light summer dish that has the mouthwatering smell and taste of basil. Mmm. Pretty hard to resist.
Caprese Fillet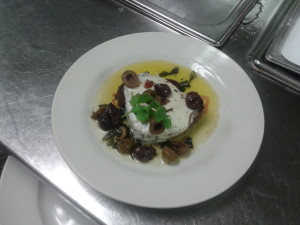 Ingredients: 
4, 5-6 oz fillet
½ oz fresh basil
1 cup butter
4oz fresh mozzarella
1 bottle Italian dressing
4 oz greek olives
Directions:
Slice mozzarella logs into 4, 1 oz portions.
Marinate with the Italian dressing. Preferably overnight but 3-4 hours will be sufficient. Clean and chop the fresh basil.
Season the fillets. I use a montreal steak seasoning. Any seasoning that you prefer will be good.
Chop the Greek olives.
Preheat broiler in oven.
Melt butter on low heat and add basil to sautee. Sautee  for about 2-3 minutes till done and aromatic.