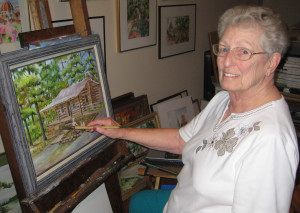 Artist Bonnie Hookman, painting for the 1st Annual Art Exhibit at the NCA Art Center located at the Fairfield Bay Conference Center.
The North Central Arkansas (NCA) Art Gallery invites Painters, Stain Glass Artists, Wood Carvers, Photographers and Sculptures to submit works for the 1st Exhibition in Our Towne Conference & Visitors Center, located at 110 Lost Creek, Fairfield Bay.
The juried exhibition is open to all artist, eighteen years or older.
Deadline for entries is Sept. 9, 2013. Contact Art Gallery coordinator, Charlotte Rierson at [email protected] or P.O. Box 1643, Fairfield Bay, AR 72088 for the Prospectus and Entry Forms.