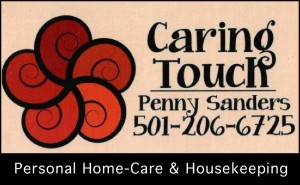 Penny Sanders is the owner and operator of Caring Touch, LLC. Meeting your Needs With Care. Caring Touch is a personal,homecare and houskeeping service.
Penny is a licensed Practical Nurse (LPN) with 25 years of experience. She specializes in senior needs and hospice care. Services include: Alzheimers, Dementia, Parkinsons, Wound care, Diabetic care, Bedfast patients, Post hospital care according to Drs orders and Companionship.
Companionship includes assisting with activities of daily living and assisting with physical/occupational exercises.
For more information please contact Penny at 501.206.6725
If you are in need, Penny is available for you.