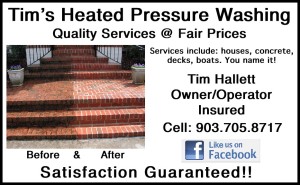 Tim Hallet, former owner and operator of SpareTime Bowling and Fun Center, has started a preessure washing business here in the Bay.
Tim brings 15 years of experience with him from when he lived in Tyler, Texas.
In Tyler, Texas, Tim washed the transit city buses twice a week for nine years. He pressure washed houses, mobile homes, decks and concrete. Tim also specialized in the cleaning of commercial exhaust systems in restaurants, nursing homes, and eight different school districts. Tim also removed decals from police cars in preparation for city auctions for the city of Tyler. He has washed all kinds of things. One interesting thing in particular was a fighter jet plane someone was restoring. Tim said that was a pretty cool experience.
He prides himself in providing quality service that is second to none and provides his services at fair prices. He is able to do so because he has invested in the best equipment he can get. Tim had his rig custom built to be efficient and economical.
Using heat allows Tim to not use chemicals but when chemicals are needed, he uses environmental friendly chemicals.
See the ad below and call Tim for all your pressure washing needs. No job is too small.