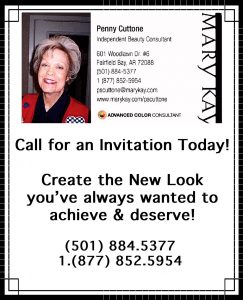 Penny Cuttone, a long time resident of Fairfield Ba,y has been a Beauty Consultant for Mary Kay for 38 years. "This is a fun experience for ladies young and old, from 13 to 100+. It's been so much fun for me because of a quality product with a 100% satisfaction guarantee, I get to set my own hours and I just love pampering my customers," said Penny.
Mary Kay priorities are: 1 God 1st, Family 2nd and Work 3rd. The Golden Rule is; "Treat everyone the same way you want to be treated."
There is a "Go Give Spirit" with Mary Kay. Help enough people achieve what they want and you'll achieve what you want. See her ad on this page.