Bay Computer and Technology Solutions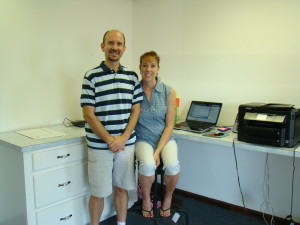 Fairfield Bay is pleased to welcome Nathan and Deborah Bond, of Dallas, Texas, to our community as they open their computer business in the Village Mall on Monday, August 5, 2013.
The Bond's are excited to have the opportunity to help the people of Fairfield Bay with a wide range of computer, networking and technology services. Services offered include troubleshooting and repair, upgrades, virus and spyware removal, data backup and recovery, wireless networking, as well as training and instruction. In-store estimates are no obligation and are free. The Bonds pictured above, explain the services they provide.
"For those more comfortable with us coming to their home or business, give us a call and we can set up a time that is convenient, they said.
We will also have in-store items for purchase, such as cables, cords and chargers, external hard drives, computer and cell phone accessories, and printer supplies, copies, etc. If a business or individual has any particular items they'd like us to keep in stock, we'll be happy to keep those on hand.
We believe that what sets us apart from others is that we are the only locally-owned computer services business in Fairfield Bay. Combined, we have over 50 years experience in the computer business and our goal is to treat each case as if we were helping a member of our own family. Our success is dependent on complete customer satisfaction.
Other services we'll be offering include selling previously-loved computers on consignment. Space will be limited, so if interested, please contact us."
They are located in the Village Mall, next to the Community Education Center. Office hours are Monday through Friday, 9 a.m. – 4 p.m, and Saturdays 9 a.m. – Noon. The phone number is 501-884-5200 or email them at [email protected]