BC Stained Glass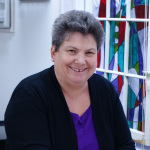 Even though Barbara Cornett lived and worked in the Chicago area until recently, she and her husband have had a vacation home in the Fairfield Bay area for a little more than twenty years. She has looked forward to the time she could enjoy all they love about Arkansas and last year decided it was time to make the "visits" last longer. They now permanently live in our area.
You will find many of Barbara's stained glass and fused glass pieces on display at the Conference Center Gallery sponsored by the North Central Arkansas Foundation for the Arts and Education (NCAFA&E). Her pieces sell quickly, but you're sure to find something you love at her studio, BC Stained Glass, just off Highway 330 in the area of Reaves, Wear & Share, the VFW and the former Sharkey's.
Barbara started doing stained glass about 12 years ago when she wanted to make a window to put in an odd shaped opening in her home. She took a few lessons and quickly learned that a stained glass window has a personality that changes as the light of day changes through it. She became fascinated with the endless possibilities of colors and textures and was totally hooked on the art. She took one on one classes in stained glass from artisans and instructors in the Chicago area, and about six years ago expanded into doing fused glass, which offers a little more "movement" in the glass.
She was anxious to open a glass shop where she could pursue art full time, as well as teach others the art of stained glass and fused glass. She and her husband built the studio next door to their home and opened it to the public. She carries an extensive stock of glass tools and supplies for glass art. She offers lessons in both stained glass and fused glass and no prior experience is needed. Evening lessons are available by appointment at no extra charge. Barbara also makes her studio available for customers to use tools such as saws and grinders and a beetle bit cutting system. Space for storing your project is available on a first come basis. During the class sessions, Barbara will be present for help or guidance if you need it. The studio has two kilns that can accommodate even very large pieces and she has over eighty fusing molds for customer use.
Her mission is to offer glass art to those who are interested. Her goal is to make your experience convenient, affordable and fun.