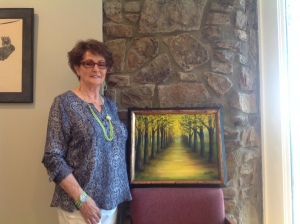 The Fairfield Bay Education Center and Artist Doris Sexson announced today that the next oil painting class will begin on Thursday, October 2 from 9:30 to 11:30 a.m. for five weeks. All beginning and intermediate students are welcome to paint the very colorful and exciting fall landscape.
You will need a smock or over-sized shirt to protect your clothing and a roll of paper towels. Two items can be purchased in the classroom – the 16×20 canvas and a stubby brush. In addition, the paint supplies you need to purchase are: 1 flat bristle brush (size 10 or 12), 1 mop brush – medium (size 8 or 10), 1 liner brush (size 1) and pallet paper. The paint colors you will need are: White, Prussian Blue, Cadmium (red medium), Cadmium (yellow light), Terra Verde (earth green), Sap Green, Burnt Umber, Burnt Sienna, Cadmium Orange and Black.
Call Doris Sexson at 884-6702 if you have questions about the class or the supplies needed.