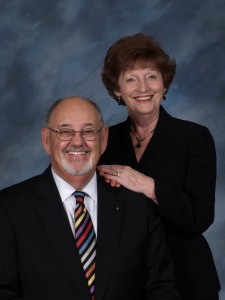 The City of Fairfield Bay is pleased to announce a professional service's contract with Bob and Wilba Thompson to co-manage the Fairfield Bay Conference Center, which is being renamed 'Our Towne Conference and Visitor's Center.'
Bob and Wilba have extensive professional backgrounds. Bob's background as a Chemical Engineer included numerous leadership positions in sales and training for Buckman Laboratories Incorporated in Memphis. Wilba owned and managed Sunset Mountain Candles in Fairfield Bay and later in Shirley. Prior to that, Wilba owned and operated the Apple Collection in the Fairfield Bay Village Mall. Their professional background, training, positive attitudes and ability to make great first impressions to our visitors and residents as we initiate the operation of the Our Towne Conference and Visitor's Center, make them ideal for this position.
With the availability of overnight lodging from September through May, the time is now to start the process for booking conferences. Many conferences are already booked for 2014. Their immediate tasks will include: Development of a list of potential customer contacts, development of packages for conference attendees, development of a staff for the conference center, development of commercial offerings at the conference center, establishment of daily operational assignments and schedules for the Center after it is open, and the completion of numerous other tasks that will be required to successfully open and operate the Our Towne Conference and Visitor's Center.
Please welcome and support Bob and Wilba. Their success is critical to our city. Bob and Wilba will occupy an office in the Bay Center City Office complex beginning May 6.