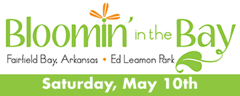 VBC Master Gardeners' annual plant sale, and a Spring Celebration
for the Family and Season at Ed Leamon Park.
"Earth Laughs in Flowers" – Ralph Waldo Emerson
The warm breath of Spring is finally upon us, and as Emerson says, the "Earth Laughs in Flowers"… and plants… and the happiness that new life brings. On Saturday, May 10th, join the community of Fairfield Bay, the Van Buren County Master Gardeners and a host of local artisans, as Spring comes into full bloom at beautiful Ed Leamon Park, Fairfield Bay. This family-friendly event is FREE and open to the public. 'Bloomin' in the Bay' is a celebration of Spring featuring the 11th annual Van Buren County Master Gardeners Plant sale, live music, tips and tricks from unique gardeners and creative artisans, and hot grill fare, plus – an evening concert featuring the impressive group of sisters, 'REAL Entertaining'.
Morning Glories: 11th Annual VBC Master Gardeners' Plant Sale (8am-1pm)
Love to see things grow? Be sure to spend the morning with the VBC Master Gardeners selecting beautiful homegrown plants, including herbs, perennials, annual, shrubs, native plants, hostas and trees. Gardening enthusiasts are all a buzz, as special event guest, Janet Carson – UofA horticulturist and one of the state's top Master Gardeners – will be sharing gardening tips throughout the morning. "Ed Leamon Park is an award-winning garden designed and created by the VBC Master Gardeners," notes Carson. "The growing beauty of the garden, and this lovely community, make 'Bloomin' in the Bay' a terrific showcase for a Spring celebration."
Tips and Tricks garden sessions will be sprinkled throughout the morning. There will be games for kid's,a self-guided nature hike and more than 30 vendors offering unique wares and sage outdoor advice.
Keep the Day's Adventures Bloomin' (1-5pm)
Come early to buy your fill of beautiful plants and then spend the day exploring and playing in Fairfield Bay.
– 18 Holes at Beautiful Indian Hills Golf Resort
– Scenic Lake Cruise on Pristine Greers Ferry Lake
– Art Galleries Tour – Self-guided
Evening: Featured Event, 'REAL Entertaining' (5-8pm)
The day's events culminate with a REAL one-of-a-kind concert at the Fairfield Bay Conference & Visitor Center: Free performance by 'REAL Entertaining' – the unique family of four sisters who are creating quite a sensation on the arts scene as they blend their instruments and vocals — a treat not to be missed. "We're hosting a celebration of Spring and you are invited," says Verna Hicks, President VBC Master Gardeners. "Join us as we celebrate our 11th Annual Plant and Garden sale and all the Bloomin' festivities, speakers and artisans. Fairfield Bay is alive with the color of Spring."
Stay & Play Weekend Packages
Why not stay for the weekend and get the most out of this family event. Great vacation packages available or call your personal concierge to create a unique trip just for you at 501-884-4202