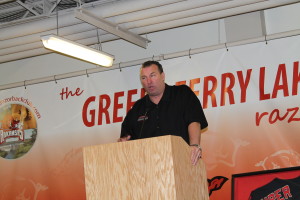 Jack Keathley Over 700 fans attended the 6th Annual Greers Ferry Lake Area Razorback Club Banquet April 1, 2013. As attendees entered the Heber Springs Community Center they were greeted by the real head hog, Tusk IV and his owner, Keith Stokes.
The doors officially opened at 5 p.m. but at 4:50 p.m. there were already over 100 people in the banquet hall. The walls and center isle were lined with silent auction items, ranging from autographed helmets and footballs to signed photos of the Duck Dynasty cast!
The live auction included 10 to 30 tickets to each of the Razorback home games that went for a minimum of $100 each. The grand finale of the live auction were; a football signed by Arkansas Head Coach Bret Bielema and his coaching staff for $450, a Razorback helmet signed by Coach Bielema, for $700 and an autographed Limited Edition Framed piece – Tyler Wilson and Cobi Hamilton "Record Breaking Passer & Receiver" that went for $525.
Burt Eddington, member of the Board of Directors, reported that the Club has contributed $63,000 to the Razorback foundation and is one of five Razorback Clubs that are Broyles-Mathews Platinum Members, giving $20,000 or more annually. One of the perks of being Platinum Members is getting first choice of speakers at the banquets. Another is getting prime tickets to sell at the banquets.
Elizabeth Sullivan, Assistant Director of the Razorback Foundation, talked about the women's athletic programs and reminded the crowd that the players are "Student" athletes.
Chuck Barrett, Voice of the Razorbacks, warmed up the crowd for Coach Bielema who received a thunderous standing ovation when he took the stage.
Coach Bielema said that he had heard the first day he came to Arkansas that "everybody is a Razorback" and his travels over the state have proven that statement. Coach told the audience that Arkansas kids belong in Arkansas and that we all should let them know that when they finish their career, they will be welcomed with open arms everywhere in the state. He said, "You all should tell them if they choose to go out of state to play ball they don't need to come back." After a roar of laughter, Coach Bielema said, "I'm serious about that and you should be too!"
13 players off his first of three Big 10 championship teams made it to the NFL and 12 players from his second Big 10 championship team became NFL players.
He told the crowd about several of his 23 new recruits but it seemed he was the most pleased with Alex Collins, who he said "Stole the Show."
Coach described his introduction to "Skype" came while recruiting an ambidextrous punter from Australia. The recruit told Coach, that they have to discuss this with his mom so Coach, the punter and his mom in Australia "Skyped" to seal the deal.
During the question and answer session, Coach said that he prefers a balanced attack and that his Wisconsin teams averaged 200 yards passing and 200 yards rushing per game. He added that some teams will not allow you to run and in those games the passing game will dominate the offense.
He was asked why the 1-0 beside his name is on his autographs? Coach explained that he takes each week with the philosophy that we are going to go 1-0 this week. He added that his players have adopted that slogan also.
A youngster asked why he became a coach. The response was that until he left for college, all he ever wanted to be was a hog farmer, like his dad. But after his college career and 6 days as a professional football player with the Seattle Seahawks, he came back to his old college and was asked by his former head coach, Haden Fry, to join his coaching staff.
He was asked why he came to the SEC, he said "because they have won 7 straight National Championships!" Coach Bielema said he was once told that if you love what you are doing it is not work and based on that, he has never worked a day in his life.
The next meeting of the Greers Ferry Lake Razorback Club will be held at First Baptist Church Family Life Center in Clinton, AR on August 22, 2013.