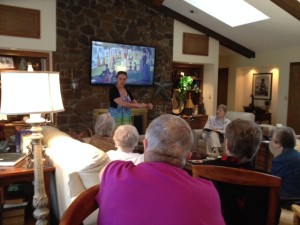 Beta Sigma Phi XI Gamma Kappa Chapter met at the home of Celle Newsome on April 2, 2014. Co-Hostess was Rose Teer who served fruit, nuts, and a delicious coconut cake. Our guest speaker was Jackie Sikes who informed us of
"The Dirty Farmers Community Market" in Clinton (364 Main Street). They are a non profit organization that is dedicated in giving our local farmers a market to provide fresh, nutritious food to the community, five days a week, without needing to advertise or spending their valuable time at a stand to sell. The market offers fresh local bread, meat, eggs and baked goods. In addition to the market, they also provide a place for local craftsmen and artists to sell their handmade goods to the public. It was a very enjoyable presentation.
Officers were nominated and approved for the following year: President – Shirley Rudolph, Vice President – Bonnie Raymond, Recording Secretary – Ann Diaz, Corresponsing Secretary – Mary Berghorn, and Treasurer – Rose Teer.