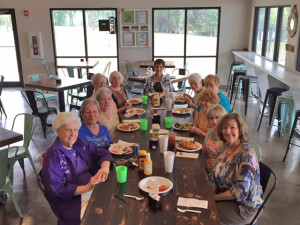 Laureate Alpha Lambda celebrated Beginning Day at the Cool Pool Cafe with new members Ellen Kelly and Trudy Gautreau attending. President Annalee Culp gave an overview of the coming events, announcing that the chapter's primary fundraiser, Paws in the Park will be in the spring.
The last Sunday in August is the official date for Beginning Day for Chapters in Beta Sigma Phi to mark the beginning of their new year after a summer vacation. All four Fairfield Bay chapters met during the last weekend in August.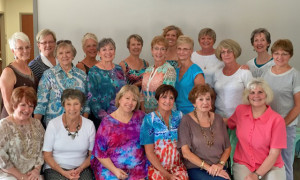 Beginning Day…for Zeta Sigma chapter of Beta Sigma Phi was held at the Cool Pool on Aug. 27. Chapter President Frieda McClellan welcomed us all to our new year and presented each of us with a thank you gift. Past President Sharon Luxon was presented with the "memory" scrapbook of her year as president. It was a wonderful meeting of chapter sisters as well as our new pledges. Next meeting will be September 10 at Kathy Harvey's home.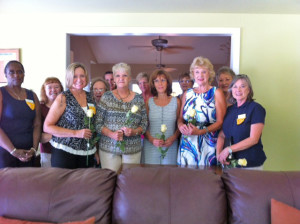 Year End Meeting…Beta Sigma Phi Xi Gamma Kappa met at the home of Rose Teer on Wednesday, September 2, 2015 at 1 p.m. for our first business meeting of the year. A delicious dessert was enjoyed by all. Linda Tangen handed out year books to all members. Bob Chaloupek, captain of the Fairfield Bay EMS Unit presented the program. He has been with the Fairfield Bay EMS since 2006. He stated that Fairfield Bay EMS volunteers average a total of 52,500 volunteer hours in a year. The Fairfield Bay EMS is always in need of more volunteers. At this time they have 12 EMTs, 17 Second Medical, 15 Drivers, and one Data Entry volunteer. A beautiful pledging ceremony was conducted bringing new members Lisa Duggan, Shirley White, and Rebecca Moore into the Beta Sigma Phi sorority. Their acceptance as pledges was formalized with each receiving a yellow rose.