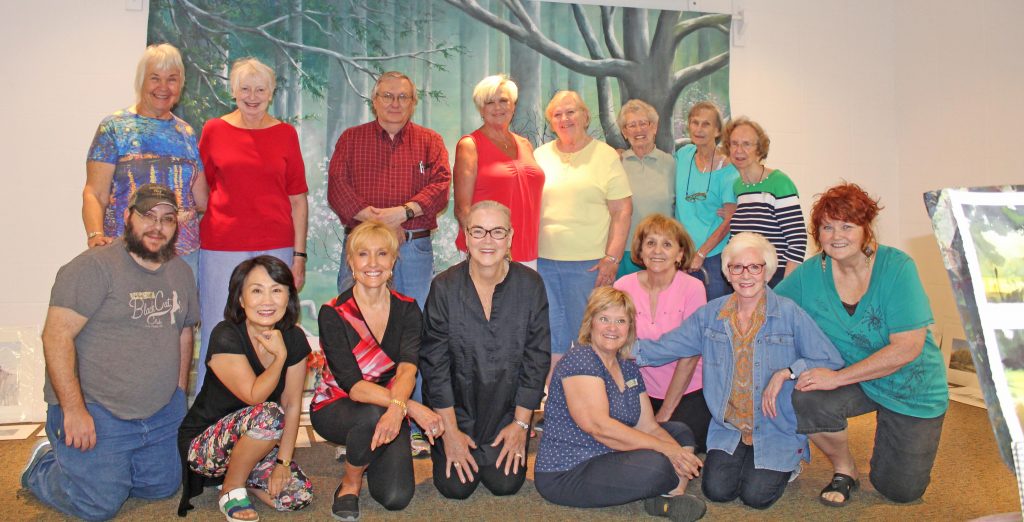 Members of the North Central Arkansas Artist League at their recent watercolor workshop: (front row, from left) Nelson Scott, Yun Kim, Charlotte Rierson, Faye Rodgers, Joan Bland, Kathleen Hadley, Diana Foote, Sue Pico; (back row from left) Joyce Hartmann, Judy Lebestkey, Richard Stephens (watercolor workshop presenter), Dianne Traylor, Jan Cobb, Bonnie Hookman, Jeanne Homuth, and Lea Berry.
The public is invited to view the new "Back to Nature" art exhibit by members of the North Central Arkansas Artist League, who hung about 50 new creative works of art at the Ozark Regional Health Center in south Clinton. Art is located in the halls upstairs by the cafeteria and also on the lower level in the Outpatient Wing. The exhibit will hang through November 14 with everything for sale through the Hospital Auxiliary Gift Shop, open from 10 a.m. to 3 p.m..
The theme, "Back to Nature," features landscapes, florals, and other planet-friendly topics. Viewers will find watercolors of the endangered Yellowcheek Darter and the Speckled Pocketbook Mussel, found only in our local Little Red River drainage system. They will also see landscapes, florals, owls, birds, pigs, elephants, rural scenes and more.
Some of the more unusual works are the upcycled and recycled art: using throwaway objects, thrift store purchases, or natural objects. "Tempus Fugit," for instance, is a large piece that includes several old clock faces, parts of frames, and paint. Another work of sculptural art includes a mask of the artist's face, parts of cell phones, switch plates, and wires. There are paintings on wood, breadboards, gourds, trays, bones and barnwood.
Artists displaying their work are Diana Foote, Holly Mt.; Faye Rodgers, Clinton; Nelson Scott, Charlotte Rierson, Ellen Kelly, all of Fairfield Bay; Yun Kim, Joyce Hubbard, both of Mountain View; Carolyn Goettsch, Edgemont; and exhibit coordinator, Joyce Hartmann, Choctaw.
The NCA Artist League meets each Monday to paint together in Fairfield Bay, and to have workshops by nationally known professional artists. They just completed a two-day workshop with Richard Stephens of Hot Springs Village. Members hang their work in group exhibits in Clinton, Fairfield Bay, and Greers Ferry.
Each third Monday, the Artist League invites anyone interested in art to a free program. The next event will be September 19, from 10 a.m. to 11 a.m. with Sue Pico leading a session on figure proportions…To participate, bring paper and pencil, and come a little early for coffee and refreshments. Programs are presented at Bayside Studio, at the corner of Highway 330 and Greenwood Dr. in Fairfield Bay near the Marina Road. Call Sue Pico at 745-2146 for more information on the September program.