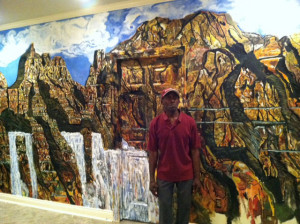 Fairfield Bay artist, Van Swink, Jr. is displaying some of his pastel and charcoal pieces at the FFB Library, 365 Dave Creek Parkway, from now until the first of August, 2013. He is a self-taught artist who works in many mediums such as oil, acrylic, charcoal, color pencils, pen and ink and pastels. This exhibit features choreographed figures, artful wild animals and impressionistic landscapes.
Van is a veteran of juried art shows, one man shows and exhibits. He plans to "go on the road" this summer at the invitation of galleries and museums. His art works have been displayed at the O'Fallon Cultural Art Center, Missouri Athletic Club, Busch Memorial Art Gallery, St. Louis University Art Center, the Garret Gallery and others.
His awards in juried art shows include the Gold Grumbacher Medal, Midwest Salute to the Masters, Jefferson National Expansion Historical Association, Quincy Art Center and many more. In addition, Van has held positions in many art associations serving on the Board of Directors of the St. Louis Artist Guild, Vice-President of University City Art Association and President of Swink and Lugger Gallery. Currently, he belongs to the North Central Arkansas Artist League and the Conway League of Artists. The Conway League included Van in a recent tour of their member's studios.
At home, he is working on a grand scale of a massive painting of "The Grand Canyon." The entire work is 10 feet by 30 feet with the entrance to a room hidden in the configuration of rock walls. Van acknowledges that it has taken a few months to complete.
Library patrons may view his exhibit during regular hours, Monday-Tuesday-Thursday from 1-4 p.m., Wednesday and Friday from 10 a.m.-5 p.m. and Saturday 9:30 a.m.-12:30 p.m. For purchase of a painting, call 501-238-0043 or contact the library coordinator Ellen Kelly at 501-884-6476.