North Central Arkansas (NCA) Art Gallery, Fairfield Bay Conference Center's Feature Artists
Collene Halldorson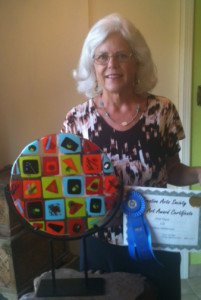 Collene is a native of Los Altos, California. Any artistic talent Collene may have had was put on hold while she and her husband raised three children and she worked as the Public Works Manager for a large city. Collene retired to Fairfield Bay with her husband in 2003. In 2007 she was introduced to jewelry designing and wearable art while vacationing with her daughters. Within a few weeks' time , Collene, with the help of her daughter Elaine, had set up her own studio. Her hobby quickly became a passion, and she found herself spending many hours a day at the work bench. After a trip to California and a week-long glass fusing class at Sundance Glass Studios learning the basics of cutting, fusing, drilling and coldworking glass—to create jewelry and small kiln-formed works, a passion for working with glass was born. "When I discover something new, I work at it until I exhaust all the possibilities," she says. She continues to learn and participate regularly in workshops around the country including Paula Radke Glass Studios in Morro Bay, California.
Collene owns CE Creations – fused glass and jewelry. CE Creations has won several awards for fused glass pieces including first place in the three dimensional art category at a show hosted by the Creative Arts Society of Searcy. Be it Christmas tree displays, ornaments, vases, bowls or art glass table pieces or wall hangings, Collene is happy at work.
Collene says CE Creations started out as a hobby business that has grown. She receives satisfaction from making custom pieces for women. Collene has exhibited and sold jewelry at several juried art fairs in Texas, Arizona, Kansas, Missouri and Arkansas. For Collene, each design be it jewelry or fused art is functional, and each piece is a work of art.
Cathy Wester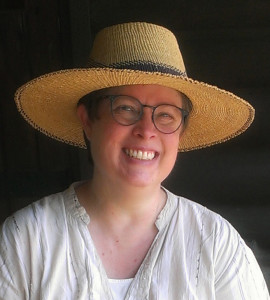 Cathy remembers from an early age watching an Aunt draw in soft pastel and a grandfather make pencil drawings of inventions and tools.
In 1985, she earned a Bachelor of Fine Arts degree from the University of South Dakota in Art/Photography where she also studied drawing.
After many years away, Cathy began drawing again in 2012, exploring oil pastels.
Cathy is listed in the Arkansas Arts Council registry. Her work has been published by Author Pictures at Lebrecht and in books published by Harper Collins.
She lives in Conway, Arkansas, USA with her husband and three cats.
Jennifer Kuipers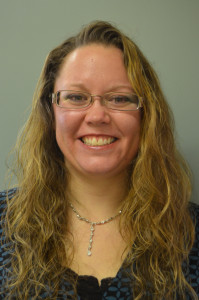 Jennifer has been involved in photography for over 25 years. Photography first interested Jennifer through 4-H as a youth, and the challenge of capturing better pictures has kept her involved. Over the years, Jennifer's work has won multiple local, area, and national awards and been published in several media including national horse- and farm-related magazines and catalogs, Humane Societies in Kentucky, county and state fair "Best of Shows" in Iowa and Arkansas, and various other photography competitions. She most enjoys taking pictures of animals, focusing on horses, but also does still life, portraits, and others. She still enjoys the challenge of continually bettering her work. Besides photography, Jennifer spends her time as stay-at-home mother to her and her husband's almost-four year old son and 1 year old daughter, and riding her horse.
We encourage you to see the beautiful artwork in the gallery. The Art includes paintings, photography, sculpture, fusion glass, stain glass, pottery, as well as other art forms. The NCA Art Gallery brings quality Fine Art to our community with good taste & family values. The artwork is open to all artists & is chosen by a selection committee under the direction of Art Coordinator, Charlotte Rierson. The gallery is free to the public for viewing. Art Gallery hours are Mon. thru Fri. 9:00-4:00 unless there are special events then the hours are extended. All the art is available for purchase. The NCA Art Gallery is sponsored by the North Central Arkansas Foundation for the Arts & Education (NCAF&E) in collaboration with The City of Fairfield Bay. For more information contact NCA Art Coordinator, Charlotte Rierson-501-884-6100, email [email protected] or Fairfield Bay Conference & Visitors Center Directors, Wilba or Bob Thompson for more information- 501- 884-4202, [email protected], 110 Lost Creek Parkway, Fairfield Bay 72088