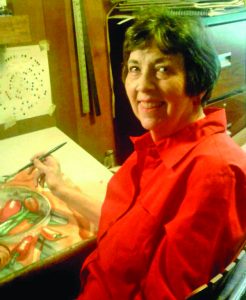 NCA Art Gallery Featuring Guest Artist– Sarah Johnson
This month the feature Artist is Sarah Johnson from Benton. Sarah is one of the new Artists that are exhibiting paintings in the present exhibit and is currently selecting new paintings for the Oct 17th exhibit, too.
Sarah Kelly Johnson is an artist living in Benton, Arkansas. She is retired from Arkansas Farm Bureau and is glad to have more time for family and painting. Sarah has had a life-long interest in art and has participated in numerous classes and workshops as well as private teaching sessions. Her medium of choice is watercolor, but through the years she has worked in oils, pastels and recently with watercolor inks. She enjoys being a member of Art Association of Central Arkansas and Mid-Southern Watercolorists, where her work has been juried into annual shows. She participates in local and statewide shows. Sarah recently won Best of Show at the Malvern Art show and the AACA show in Benton. She has been married for 57 years to Russell Johnson. They are the parents of three grown children, seven grandchildren and two great-grandchildren. Come experience Sarah's work.
Next exhibit Oct. 17.
Contact Art Gallery Coordinator, Charlotte Rierson for information & registration. Deadline to get registration sent to the NCA Art Gallery is Mon. Oct. 2.
About the NCA Art Gallery:
The NCA Art Gallery's mission is to bring quality fine art with family values to our community. The exhibit is open for all artists that are 18 years of age. A selection committee choses the art and changes the exhibit bi-annually. The artists with artwork selected for the new art exhibit are the following: Painters-Judith Beale, Lea Berry, Julie Caswell, Jan Cobb, Annette Garner, Kathleen Hadley, Joyce Hartmann, Pamma Henderson Bonnie Hookman, Joyce Hubbard, Gary Johnson, Sarah Johnson, Ellen Kelly, Jun Kim, Rebecca Loftis, Sandra Marson, Sue Pico, Charlotte Rierson, Faye Rodgers, Pauline Sears, Diana Shearon, Ann Snyder, Mary Ann Stafford, Dianne Traylor, Susan Waggoner, Cathy Wester, 3 Dimensional Art-Barbara Cornett, Karen Gehl, Linda Pledger, Anne Mitchell , and photography-Brandi Vandygriff. The artists come from Fairfield Bay, Greers Ferry, Heber Springs, Conway, North Little Rock, Little Rock, Jacksonville, Edgemont¸ Mt. View, Benton, Clinton, Maumelle, Mt. Vernon, Shirley, Maumelle, and Fayetteville.
Art Gallery hours are Mon. – Fri., 9:00-4:00 (unless special events then hours are extended). The viewing of the Art is open & free of charge to the public. All art is available for purchase. The NCA Art Gallery is sponsored by the North Central Arkansas Foundation for the Arts & Education (NCAF&E) and The City of Fairfield Bay. For more information about the Art Gallery, contact NCA Art Coordinator, Charlotte Rierson – 501-884-6100, email [email protected] or Conference Center Directors, Wilba or Bob Thompson for more information- 501- 884-4202, [email protected], 110 Lost Creek Parkway, Fairfield Bay 72088.