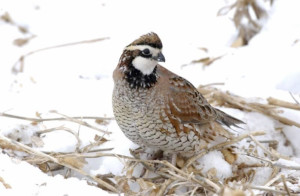 The Northern Bobwhite Quail is the most prized native game bird in the central and southeastern U.S. This bird is also favored by those of us who appreciate seeing and hearing the Bobwhites song and calls.
Clifton Jackson, Quail and Small Game Program Coordinator for the Arkansas Game and Fish Commission, will reveal the challenges of managing for Northern Bobwhite Quail in Arkansas and the strategy of the State's plan for its restoration.
There are things people can do to help restore quail populations on their properties and assistance is available. The Bobwhite Quail decline is a direct indicator of loss in grassland habitat quality; habitat shared and relied upon by other bird species.
The Little Red River Audubon Society will meet at the Western Sizzlin' in Clinton for a dutch treat dinner at 5 p.m. on November 24. Everyone is invited to attend this last meeting of the year. The meeting begins at 6 p.m.