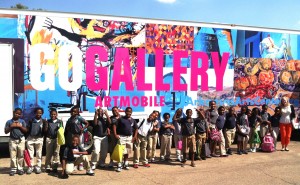 The Arkansas Art Center's Artmobile will be at the Clinton Schools during the week of January 25, 2016.
Community Night Open House will be hosted by Clinton Schools on Thursday, January 28, 6-8 p.m.
All surrounding communities, including Fairfield Bay are invited to attend.
The Artmobile appearance in Clinton will be sponsored by 1st Service Bank and Faye's Diamond Mine.
The Artmobile is a state wide traveling museum of art featuring famous artists using various artistic methods and techniques. The theme for 2016 is "Animals: Familiar & Fantastic" which brings to life creatures, both real and imaginary. Katie Combs, the new art historian, will serve as tour guide and will greet all visitors. The North Central Arkansas Foundation for the Arts and Education (NCAFA&E) proudly brings the Artmobile to our communities using grants and donations from our loyal supporters at special events. Please plan to participate in one or more Community Nights.