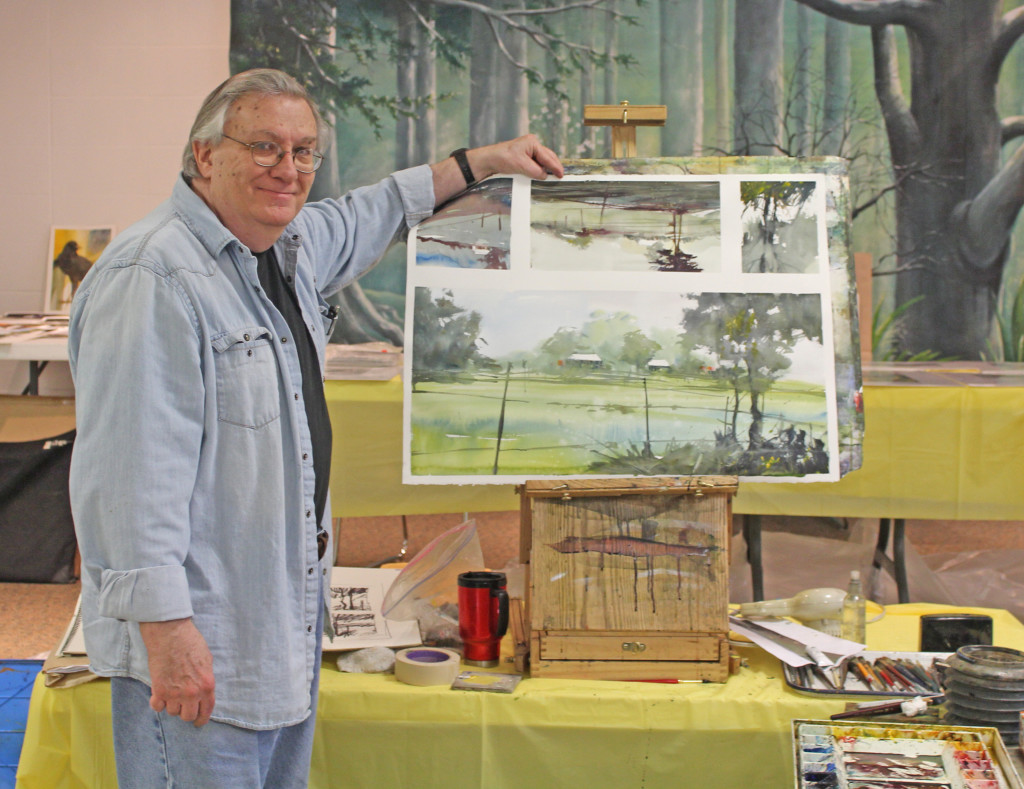 Richard Stephens stands by one of his demonstration paintings, showing four compositions from one photograph. Each section of the paper was first divided with masking tape. Painting the large picture first, he turned the paper to paint three more compositions and then removed the tape to produce the white margins. Painting quickly and loosely, he challenged his students to try the same techniques with their subject matter.
Renowned watercolorist, Richard Stephens, of Hot Springs presented a workshop in Fairfield Bay October 5 and 6, sponsored by the North Central Arkansas Artist League. Fifteen artists attended, coming from Kansas, Mt. View, Greers Ferry, Clinton, Choctaw and the Bay.
Stephens painted a demonstration piece each morning, and then helped and encouraged the students with their projects. His style is impressionistic and he encourages students to paint loosely, telling them, "Don't render, indicate." Producing fresh watercolors with good composition and design, he is a strong believer in doing value sketches. "If you get the values right, the colors will work."
Stephens emphasizes, "It's passion, not talent, that produces good artists. A master is someone who has failed more times than most people have even tried."
He cautioned against overworking a painting. "Sometimes, the smartest thing you can do is put down your brush!"
To see more of his artwork, check out his web site at www.raswatercolors.com or look at his Facebook page.