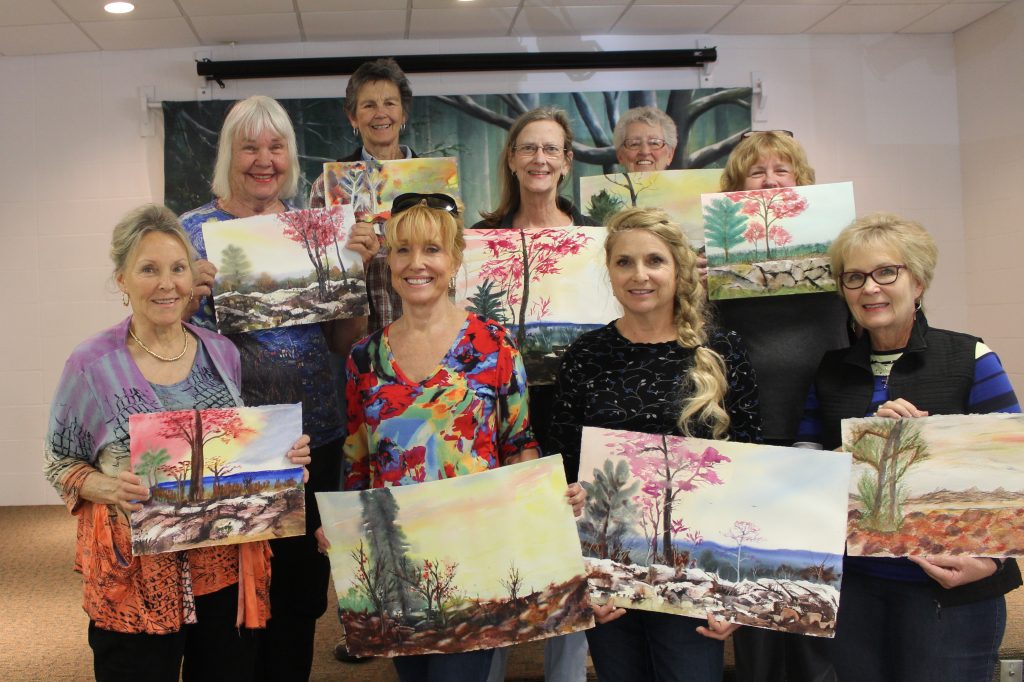 Attending the workshop were (front row, from left) Mary Orr, Heber Springs; Charlotte Rierson, Fairfield Bay; Cynthia Schanink, Hot Springs; Gail Farmer, Heber Springs; (back row, from left) Joyce Hartmann, Choctaw; Lynn Dixon, Heber Springs; Gay Ryan, Bonnie Hookman, and Alecs Long, all of Fairfield Bay. Not present for the photo was Mary Scott, Heber Springs.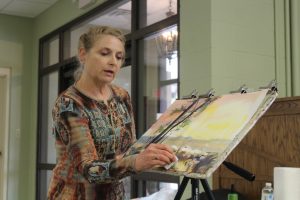 The North Central Arkansas Artist League held a two-day watercolor landscape workshop taught by Cynthia Schanink on April 6 and 7 at the Kirk in Fairfield Bay.
Member artists from the Bay, Choctaw, and Heber Springs attended and each completed several landscapes, applying techniques that would allow the paint to "do its thing." Watercolor was mixed and misted, stamped, and scraped with a credit card, and painted with a brush. The results were colorful interpretations of rocks, trees, water and people that allowed the viewer to interact with their own imagination.
Cynthia demonstrated many techniques, encouraging artists to have faith in the paint, allowing water to be the vehicle through which the pigment would flow. "Trust in the water to move the pigment," she said. "It is a faith-driven medium: you believe watercolor is going to work. Professionals know how to control this medium and it will paint itself if you let it."
Cynthia is an educator on the Arts on Tour Roster of the Arkansas Arts Council, a signature member of Mid-Southern Watercolorist, a plein air award-winner, and was recently awarded Artist-in-Residence at Hot Springs National Park. She has traveled and taught watercolor 10 years on cruise ships. She lives with her husband, Daniel, in Hot Springs Village and part-time at Mt. Nebo.
The Artist League welcomes new members. They are a group of friends who enjoy painting together on Monday mornings in Fairfield Bay, sharing the expense and fun of workshops and exhibiting their work in Clinton, Fairfield Bay, and Greers Ferry. Interested artists and wannabe-artists can ask President Joan Bland or any member about joining the League.