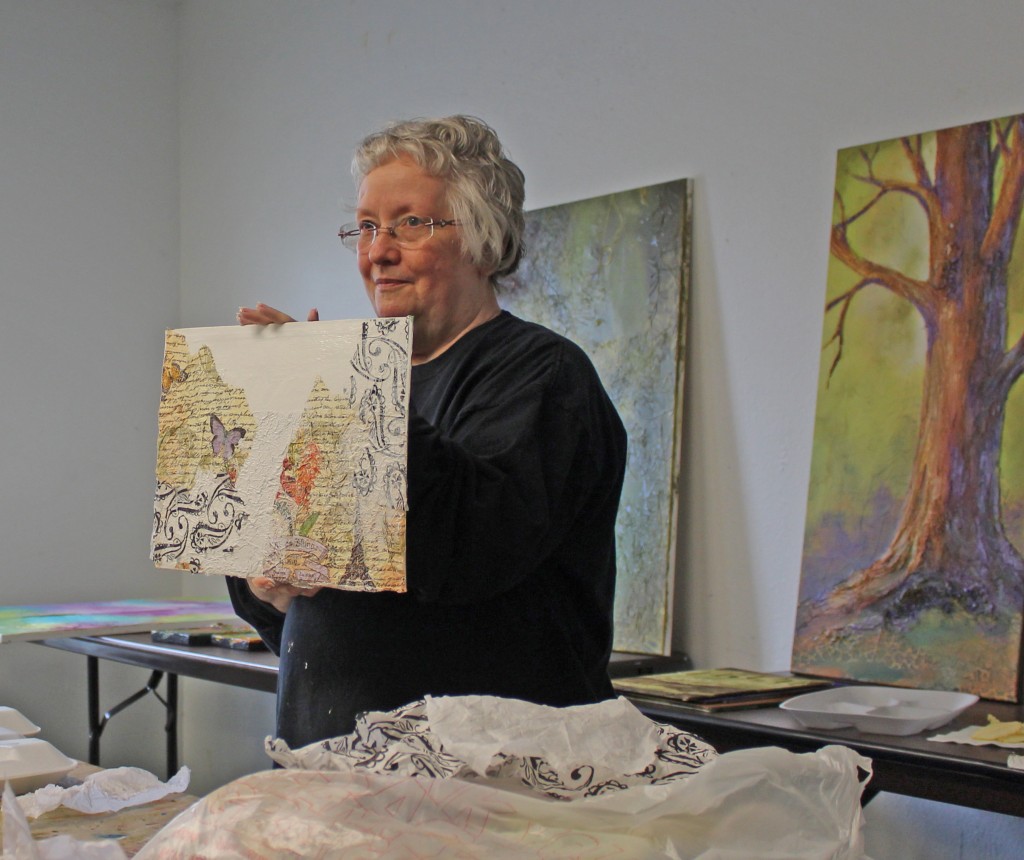 Artist, Caren Garner, shows the NCA Artist League how to achieve texture by combining gesso, acrylic matte medium, paint, and paper napkins in a piece of nonobjective art. She also demonstrated the use of many other types of materials and paint. To see more photos of this demonstration, check out the North Central Arkansas Artist League's Facebook page.
Artist Caren Garner of Conway gave a mixed-media demonstration January 25 at Fairfield Bay, sponsored by the NCA Artist League. About 15 local artists watched her use a variety of techniques to achieve interesting textures in art.
Garner enjoys applying textural elements in experimental and non-objective work in water media, acrylics, mixed media and collage. A favorite subject is wildlife, especially African wildlife. She is also adept in a variety of work including florals, landscapes, portraits, and abstract/non-objective work, and is available for floral design, faux finishing and interior design work.
Her work has won numerous awards and she is currently represented by Butler Center Galleries in Little Rock and American Art Gallery in Hot Springs.
She has been painting for over 30 years. Her work is on display in both private and corporate collections around the country, including work done for Walter Reed Army Medical Center and a patriotic mural on the Palliative Care Unit at the John L McClellan VA Medical Center in Little Rock. Other murals can be seen in several Little Rock restaurants. She is a member of Conway League of Artists and Mid-Southern Watercolorists.
The NCA Artist League members live in Fairfield Bay, Greers Ferry, Choctaw, Clinton, Edgemont, Mt. View, and places in between. They meet each Monday morning in Fairfield Bay near the marina at the Greenwood Bldg., which they've dubbed Bayside, on the corner of Highway 330 and Greenwood. They invite interested persons to join their group if they would like to paint socially or exhibit their art in group exhibits. Artists display their work at the libraries in the Bay and in Greers Ferry, as well as Ozark Regional Medical Center in Clinton. Interested persons can contact any member or President Joan Bland, 785-979-5193, or check the Facebook page, listed as North Central Arkansas Artist League.
In addition to providing beauty in public places, League members also promote professional development through workshops and demonstrations, such as the Workshop on Perspective by Bonnie Hookman on Feb. 15, and a Portrait Watercolor Workshop by Marlene Gremillion on March 21 and 22. Artists hung a new League exhibit at Greers Ferry Library Jan. 27,as well as a new exhibit entitled "Love" at the hospital in Clinton on Feb. 8.