North Central Arkansas Art Gallery Grand Opening
The North Central Arkansas (NCA) Art Gallery is showcasing original artwork by 32 artists at the Grand Opening of Our Towne Conference & Visitors Center and StoryFest at the Bay, Saturday, October 12.
The NCA Art Gallery is bringing quality Fine Art to our community with good taste & family values. The artwork will feature the following artists:  sculptor- Anne Mitchell; Stain Glass artist-Karen Gehl; potter-Karen Hamilton; photographers Lee Phillips, Dan Feuer, and Sherry Guess;  27 painters-Lea Berry, Julie Caswell, Jan Cobb, Raylene Finkbeiner, Diana Foote, Kathleen Hadley, Joyce Hartmann, Dorothy Hendrickson, Jeanne Homuth, Connie Hood, Bonnie Hookman, Ellen Kelly, Melva King, Sandra Marson, Freda May, Robbie Miller, Rosalie Musial, Sue Pico, Charlotte Rierson, Pauline Sears, Doris Sexson, Alison Shreck, Judy Shumann, Van Swink, Mary Shelton, and Dianne Traylor.
The Art Gallery is open to all artists and is juried by a selection committee under the direction of Art Coordinator, Charlotte Rierson.
This special exhibit will be open for viewing until March 3, 2014.
The NCA Art Gallery is sponsored by the North Central Arkansas Foundation for the Arts & Education (NCAF&E) in collaboration with The City of Fairfield Bay.
For more information contact NCA Art Coordinator, Charlotte Rierson-501-680-2741, email [email protected]  or Our Towne Conference Center Directors, Wilba or Bob Thompson-   501- 884-6500, 110 Lost Creek Parkway, Fairfield Bay 72088.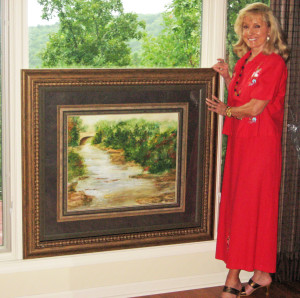 Shown in photo is Artist, Charlotte Rierson with her painting "Lost Creek ". She donated the painting to the City of Fairfield Bay to hang in the Our Town Conference & Visitors Center. Charlotte is a well-known artist and has held several leadership roles in art organizations including President of the Mid Southern Watercolorists (MSW) and is now the Director of the MSW Regional Advisors.  Charlotte has had art museum training at the Arkansas Arts Center & the High Museum in Atlanta and is coordinator of the North Central Arkansas (NCA) Art Gallery.  Charlotte started the NCA Art gallery at the Indian Hills Country Club when she was Executive Director of the North Central Arkansas Foundation for the Arts & Education (NCAFAE).  In 1998 for her work in promoting the Arts in the three counties of Cleburne, Van Buren, Stone, and surrounding areas she received the Arkansas Arts Council's Governors Award for Community Development of the Arts, In 1991 she was awarded certification for successfully completing the requirements of Leadership Arkansas training that requires exhibiting the highest qualities of volunteerism for Community Development and Governor Tucker awarded her the Volunteer Excellence Award in 1995.   The North Central Arkansas Foundation for the Arts & Education awarded her The Lifer's Hall of Fame Award in 1996.   Charlotte said she is excited about having the beautiful new art gallery space to be able to exhibit 3 Dimensional Art, Photography, and a large body of Paintings.  Charlotte wants to give a big thank you to the Art patrons that donated their time and money to help make it possible.