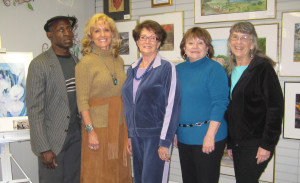 The Art Gallery & Studio of Fairfield Bay will be hosting an Open House May 11, 2013 at 10 a.m. – 4 p.m. The Gallery is located in the Lakewood Village Mall • 130 Village Pl, Ste. This event is part of the Conway League of Artists Studio and Gallery Tour. The artists plan to attract people from Fairfield Bay and the surrounding areas to view artwork and meet the local artists.
This self-driving tour takes visitors to the individual working environments and galleries of local artists. Guests will meet the artists, discuss their work, see actual works in process and be given a chance to ask questions relating to the wide variety of artwork on display and for sale. There will be a drawing for a door prize. $5 for 5 tickets are available from Conway League of Artist's members, or from participating artists the day of the tour. Participating Artist information and addresses can be found on website. www.conwayleagueofartists.org . Artwork includes watercolor, oils, acrylic, batik, pottery, sculpture, stained glass and more!
The Artists from Fairfield Bay Art Gallery & Studio who will be featuring their Artwork and having demos : Robbie Miller, Karen Gehl, Charlotte Rierson, Doris Sexson and Van Swink.
Description of the artists: Robbie Miller's artwork: Oil painting impressionistic style of landscapes, still life, water scenes on mostly large canvases. She began painting at 13 and intermittently for more than 50 years.
Karen Gehl's medium: Karen is our stain glass artist and is exhibiting beautiful original pieces for the gallery and does commission work. Charlotte Rierson's artwork: The journey of personal creativity that she calls the Art Spirit Journey has led her from the dance arts to expressing her deepest thoughts and emotions through painting. Watermedia is the media of her choice.
Doris Sexson's artwork: Oil painting realistic style of nature, landscapes, still life, water and seasonal changes. Doris' paintings are very popular as she has been painting for over 50 years.
Van Swink's artwork:.Van is a self-taught artist. He works in many different mediums such as oil, acrylic, charcoal, color pencils, pen & ink and pastels. His work is unique and his expressionistic award winning pastel paintings hang in the gallery.
Other Participationg Artiists: Choctaw- Joyce Hartman, Conway, Lois Giorgis, Steve Griffith, V. Noe, Amy Ness, Sheila Parsons Talley, Susan Peterson, Maryann Schigur, Treasure Hills- Rita Makintosh, Karen Freeman, Greenbrier-Pauline Butts, Near Palarm – (White Wagon Farm & Sage House Gallery)-Pat White, Dave Cook, Janice Crummer, Marvin Crummer, MaryAnn Stafford, Suzann Waggoner.
Charlotte Rierson won 3rd place in the watercolor category and Van Swink honorable mention in dry media in the Conway League of Artist's Spring Art Show.