Settling Arkansas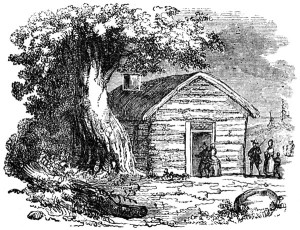 During the 262 years in which Arkansas belonged to France and Spain, those two countries made effort to settle the land. There were fewer than a thousand white people living in Arkansas when the United States purchased it in 1803. Rapid settlement followed the coming of the American flag. People flocked to Arkansas from the older states to take up land, establish home, and build a new life for themselves. These settlers were our pioneer ancestors, and it is well that we should know how they lived in their new homes in the wilderness.
The Growth Of Population: At the end of the Spanish and French periods in 1803, Arkansas was mostly an Indian hunting land. Fewer than a thousand white people lived here. Most of the whites lived in and near Arkansas Post, though some lived at Cadron and other places on the Arkansas River. Some lived along the White, the St. Francis and the Mississippi rivers. The small number of white people shows that, although Spain and France had explored Arkansas, they had failed to settle it.
A few American settled in Spanish Arkansas, but it was after 1803 that Americans began to come to Arkansas in great numbers Only the very daring, bold and hardy pioneers came before 1810. Most of these were men with no families. They were mainly hunters, trappers, and traders. They were used to hardship and seemed to be content with it. They made friends with the Indians by giving them whiskey or "firewater," by marrying Indian women, and by living among the Indians. Many of the white hunters and traders became in their ways more like Indians than Americans.
The thirty years between 1810 and 1840 were a period of rapid growth in population. A count made in 1810 showed 1,062 people living in Arkansas. In 1820 the population was over 14,000. The census of 1830 gave the territory a population of nearly 30,500, including 4,717 slaves. At the end of the territorial period in 1836, the population was over 52,000. Four years later there were 77,174 whites and 20,400 slaves in the state.
Where The Settlers Came From: Most of the people who came to Arkansas after 1803 were from the older southern states due east of the Mississippi. This is easy to understand. These states were closer to Arkansas Territory than the other states. They were slave states and Arkansas was a slave territory. This means that slavery was legal in Arkansas.
It is true that Arkansas was settled mostly by people from slave states, but it is not true that most of the settlers owned slaves. Only one family in five brought slaves to Arkansas. The families bringing slaves usually settled along river valleys in the lowlands. The families bringing no slaves settled mostly in the highlands. In every county of Arkansas, however, there were white settlers with slaves, just as in every county there were many white settlers with no slaves.
More settlers came to Arkansas from Tennessee than from any other state. Over a third of the settlers who came to Arkansas before 1850 were from Tennessee. Next in line were Alabama and Mississippi, which together furnished over a fourth of the Arkansas settlers. The slave state of Missouri furnished about one out of every eight settlers.
Not all of its settlers, however, were from slave states. Many came from New England and the Midwest by way of the Ohio and the Mississippi. A few settlers also came from France, Ireland, Germany and England.
Why The Settlers Came: Settlers came to Arkansas for many reasons. The chief reason was a desire to improve their fortunes. In the older states conditions were crowded. There were more farmers than farms, more planters than plantations, and more people than jobs. In Arkansas there was hope of a new life. Rich and cheap lands were being opened to settlement. Towns were springing up as the population grew. Every day new jobs were arising, for the growing population needed the service of working men, merchants, traders, and professional people.
Many men came to Arkansas to seek adventure. Some of them found it and went to early graves. Others grew tired of looking for adventure and settled down. Some moved on west to look for it elsewhere.