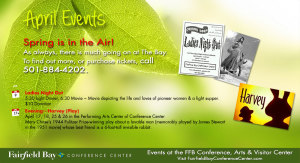 APRIL
Join us for all the great events at the Conference & Visitor Center.
4/9/15 Ladies' Night Out–Movie depicting the life and loves of pioneer women & a light supper.  $10 Donation
4/13 New art exhibit in the NCA art Gallary.
4/17 & 4/18
425 & 4/26 Evening– Harvey (Play) in the Performing Arts Center of Conference Center
Mary Chase's 1944 Pulitzer Prize-winning play about a lovable man (memorably played by James Stewart in the 1951 movie) whose best friend is a 6-foot-tall invisible rabbit.
For more information about the Conference and Visitor Center visit www.FairfieldBayConferenceCenter.com, or call 501-884-4202.