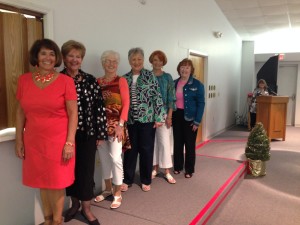 The sisters of the Xi Gamma Kappa Sorority welcomed in Spring, 2014 with smashing new designer ensembles at their 21st Annual Spring Style Show on Friday, March 28. Nearly 220 ladies attended the show at the St. Francis Catholic Church Fellowship Hall in Fairfield Bay. Pat Cash, also know to many as Aunt Minnie from the famous White River Hoe Down Theater in Mt. View, narrated this successful event. The audience's laughter filled the room from Pat's hilarious stories, jokes and comments which only she can deliver in her very humorous style.
As always with our annual style shows the members from Xi Gamma Kappa prepare homemade festive desserts. What a huge selection of delicious baked goodies we had this year for all to enjoy, with a hot or cold beverage of their choice.
Pat introduced six models and described each outfit, including accessories in detail as they strolled through the audience wearing the lastest spring fashions from six area boutiques and clothing stores. The models, Rose Teer, Jude Preston, Ann Diaz, Nancy Mueller, Mert Heinmann and Shirley Rudolph, wore outfits from The Sweet Shoppe & Bay Boutique in Fairfield Bay, Inger's Butikk in Greer's Ferry, Belk's in Conway, Aunt Minnie's Little Yellow House & Unique Boutique in Mountain View, Fashion Savvy in Mountain View and Stage in Heber Springs.
Raffle tickets were sold and the drawings were held during the show between the five sets of outfits being modeled. Raffle gifts were selected by random drawings for all ticket holders. Over 75 raffle gifts and door prizes were generously donated by area business. The proceeds from the admission and raffle tickets will benefit Fairfield Bay and area Community Organizations.
The XGK sorority members wish to thank the husbands who parked cars, ushered the ladies on and off the stage and took numerous photos as well as the shops and merchants who donated gifts and to all who came to support our 21st Style Show . THANK YOU, THANK YOU, THANK YOU for making our 21st Style Show another successful fundraising event.