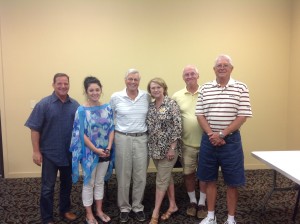 The Community Club held their Annual Town meeting at the Conference Center tonight July 14. Paul Wellenberger and Dwayne Miller, discussed the position of the Club and the City, both are in an upward swing.
Patsy Wiedanz, the Election Committee Chair, gave the election results. The numbers are as follows:
Lacey Mitchell 777, Doug Landry 661, Robert McBride 567, Nancy Mueller 520 and Mary Baker 287.
Pictured is the new board minus one, which will be decided when the board meets to discuss positions. Watch for full coverage of the meeting in the next issue of the Fairfield Bay News on July 22nd.
Pictured left to right is Doug Landry, Lacey Mitchell, Ken Schuette, Linda Pratt, Brian Moore and Richard Stratton.